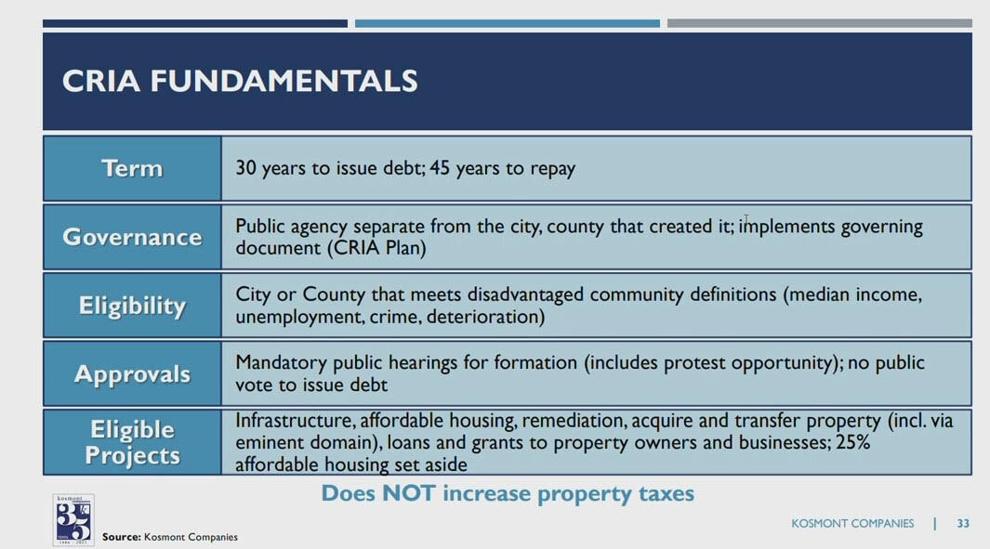 BY DAVID JAMES HEISS
Record Gazette
Following a couple of workshops last summer, Banning's city council was given a presentation on a comprehensive economic development strategy that could assist Banning in acquiring federal money and US Department of Commerce's Economic Development Administration's loans and grants for targeted projects.
After reviewing various elements of the city's demographics, Manhattan Beach-based Kosmont Companies outlined its findings last week, explaining that the city could benefit from creating Community Revitalization and Investment Authorities (CRIA) to finance infrastructure and other projects in specific undeveloped areas of the city, while isolating that financing from the city's general fund.
"So we know there's a lot of opportunity" for expansion and growth, said Ken Hira, president of the Kosmont Companies, which is consulting the city on the endeavor, "and we can see the growth as we speak: there's several projects underway."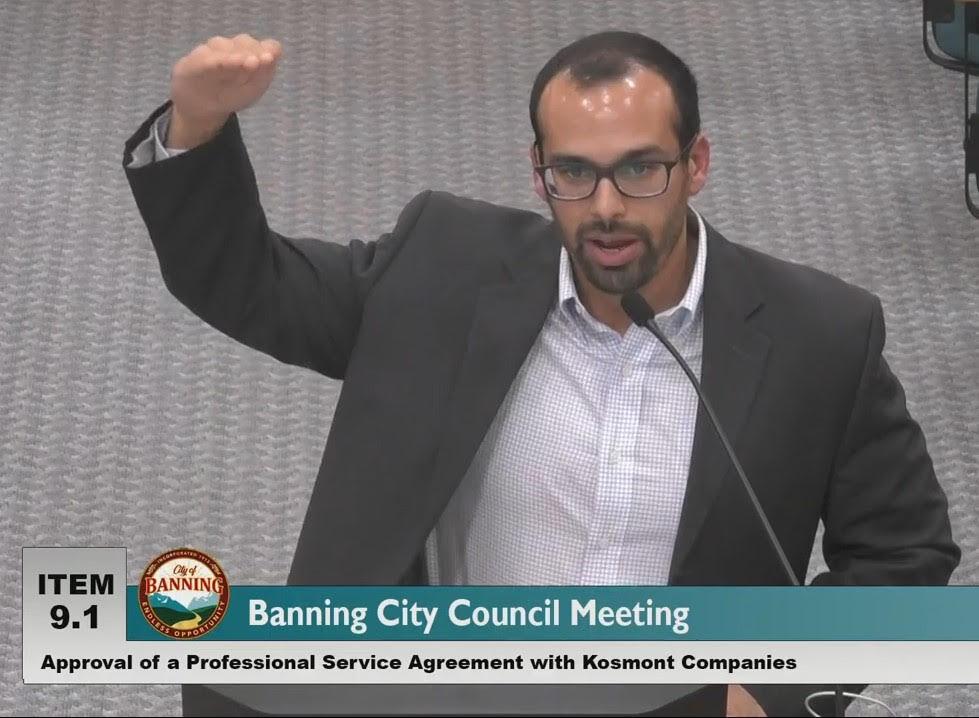 Hira and his colleagues had conducted a workshop to gather information from stakeholders last July, and factored in that input for Banning's Sept. 28 city council meeting.
A tax increment financing district would benefit the city's infrastructure, as Banning owns its own electric utility, has ample water supply for new homes, and enough capacity to handle wastewater increases through the next decade; though future growth would be dependent on the city's ability to draw water from off-site sources.
"What we see today: we see the economic development tools as currency for the city," Hira said. "This is currency you can use in leverage," whether it's via zoning, entitlements, tax districts, or low interest rates.
Kosmont Companies Senior Vice President Joe Dieguez discussed for the council the advantages of the tax increment tool known as Community Revitalization and Investment Authorities (CRIA) as a form of financing, with a focus on funding economic revitalization, value-capture, infrastructure and affordable housing, which operates similarly to enhanced infrastructure financing districts that maintain eligibility standards for affordable housing, and carry out provisions of community redevelopment law — including the use of eminent domain — for the first 12 years.
Such a mechanism will not incur changes in taxes to existing property owners, Dieguez explained; rather, it allows a municipality to set aside a portion of future tax income (similar to how a retirement account would work), usually by new development, and have those funds in a CRIA account to be used for "special purposes" — specifically for Banning, infrastructure and affordable housing.
CRIA districts are in it for the long haul: 30 years to issue debt, with 45 years to repay; it is separate from the municipality that creates it; the entity that creates it, in this case the city of Banning, must meet the criteria of a "disadvantaged community" based on median income, unemployment, crime and other statistics; CRIAs must hold public hearings for formation, though there would be no public vote for the issuance of debt; and projects that would be eligible for CRIA sponsorship would be infrastructure, affordable housing, remediation, acquisition and transfer of property (including via eminent domain); loans and grants to property owners and businesses; with 25 percent of affordable housing set aside.
Governing boards have seven to 11 members. At least 50 percent of property owners would have to approve a CRIA's creation in order for it to move forward, Dieguez said.
Dieguez told the council that CRIA is not meant to be a replacement for other tools, such as establishment of community facilities districts or general obligation bond issuances.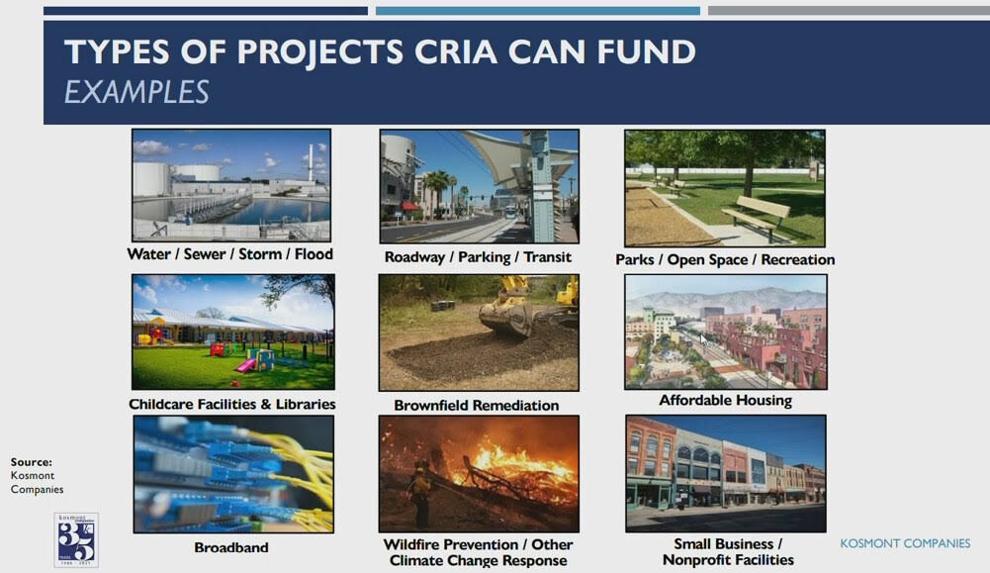 While CRIAs can be flexible with eligibility of qualified projects, it can also struggle with a lack of comparable financings, and subject to subordination to previous redevelopment agency obligations.
According to Dieguez, a draw for tax increment financing districts are that they can be used to eminent domain non-residential properties; there's strong return on the investments, as private sector investment is induced by district commitment, which accelerates growth of revenues, job creation, housing production and infrastructure improvements; they are able to attract additional funds in tax increments from other entities such as special districts and state grants; and there are no new taxes.
"Impact is a big one for us," he said. "If a city is going to designate a piece of future property taxes, we need to include an analysis that shows the return on investment for the general fund — the net impact, so all the revenues that you generate, net of the commitment to this entity, and none of the expenditures that you're going to have to pay for, such as police fire and other services for new development on a net basis, we need to prove that this is a positive return on investment," which Dieguez pointed out was aside from the benefits of job creation, housing production, and essential infrastructure installation.
Mayor Pro Tem David Happe asked Dieguez to pick out a couple of cities Kosmont Companies has been working with, and discuss how their services have benefitted those communities.
According to Dieguez, La Verne has 110 acres in a CRIA focused on office retail and industrial, in which LA County partnered after seeing benefits of installing a foot bridge over a major road, providing better access to transit, and increasing possibilities for people to take advantage of that rail transit to get from one area of the county to another; in Placentia it was reducing traffic and increasing rail transit; whereas Fresno has a 4,000-acre CRIA used to improve its bus transit system around its downtown, and to increase housing.
Happe was curious as to how acreage is designated, and where the tax revenue is generated from.
Dieguez told him that it comes from the area that is created; on the other hand, the CRIA funds generated in that designated area can only be spent in that district.
First task is for the company to come up with boundaries for districts, along with analysis of what future funding capacities for them would look like.
Councilman Alberto Sanchez asked about the issuance of bond debt.
Dieguez explained that bonds wouldn't be issued until evidence of revenues were being generated; in his experience, it would be at least three to five years out upon creation of a CRIA.
A board would have to be created to direct preparation of a CRIA plan, which would oversee four public hearings, to recommend to the city council to form the district.
Dieguez explained that no funds are ever dedicated to the district unless the assessed value in the district has increased above what the baseline has been set at.
"If you form the district and the assessed value if $100 million, you hit a major recession, everybody reassesses their property tax bill and the value goes down to $80 million, no dollars even hit the CRIA because you haven't surpassed your baseline. Only revenues above the baseline set at formation get contributed to the entity."
It would be a little trickier of a challenge if a bond within the CRIA were issued, and a force majeure were to occur, but it would not affect the city's general fund or the city itself.
Sanchez asked about how eminent domain would work.
According to Dieguez, it would work similar to elements of the former redevelopment act, which have been incorporated into the CRIA law.
Banning Economic Development Manager James Wurtz reminded the council "It's no new taxes. Basically you're taking the increment from baseline and the appreciation, so the bonds are based on land value to appreciation."
His department's request of $27,500 was to allow the city to explore the possibility of a CRIA.
Sanchez motioned to approve the professional services agreement with Kosmont Companies, seconded by Happe, and approved 4-0 (Council Kyle Pingree was absent).