In one of the first large public gatherings since the coronavirus pandemic began, the Banning Chamber of Commerce took advantage of relaxed county restrictions and held its annual catered installation dinner at The Farm's House Restaurant in Banning Saturday evening.
Nearly 150 guests were in attendance in a side annex to hear State Treasurer Fiona Ma give the keynote address, and to celebrate a dozen individuals and organizations receiving Chamber of Commerce recognition awards in honor of their contributions to the chamber and the community.
They dined on salmon, chicken and steak dinners, and had complimentary 6-ounce bottles of Brut champagne.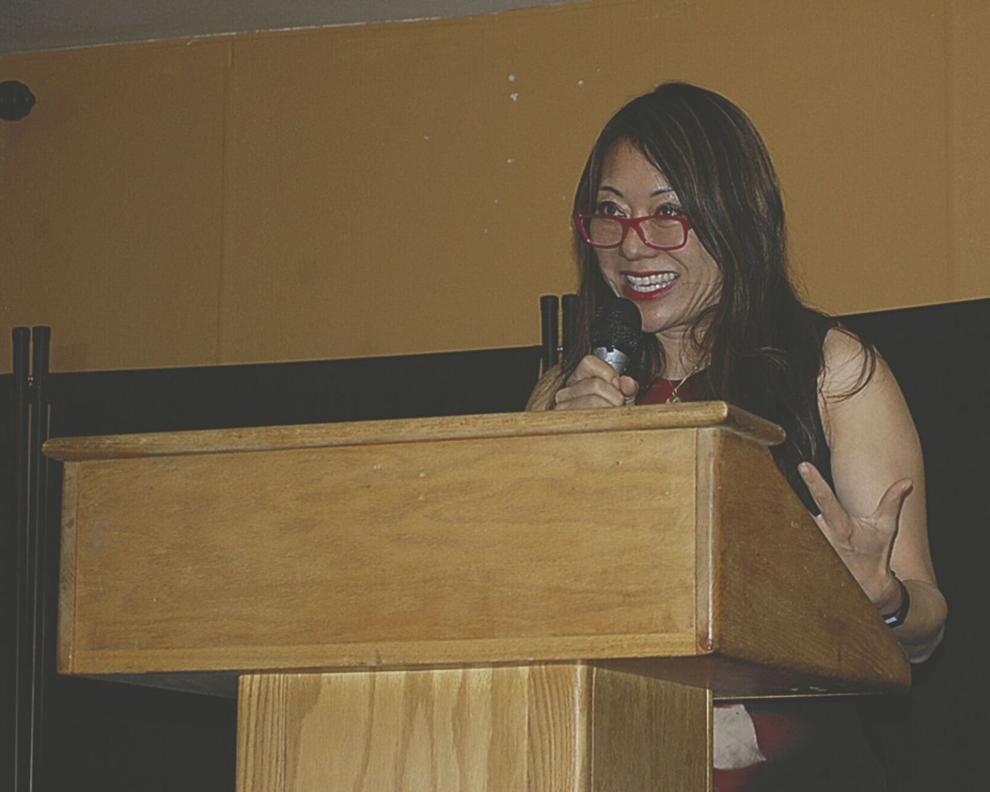 The event was emceed by the short but stentorian Mickey Valdivia, an assistant for Fifth District County Supervisor Jeff Hewitt (who was also in attendance), a Banning High School teacher, an Air BnB operator, and an at-large director for the San Gorgonio Pass Water Agency.
With many people squeezed into a crowded room as wait staff maneuvered in between, Valdivia joked, "Welcome to our super spreader event! Isn't it great to be able to be out" and gather socially again.
Most folks, while seated at tables, did not wear masks.
Ma, a New York transplant with a degree from the Rochester Institute of Technology, told those in attendance that she never imagined she would someday become an elected official.
"Things happen in childhood to foreshadow" future endeavors, she said. "My parents wrote a letter of recommendation for a fourth-grade project for me to be the banker" of the class's project. And now, "Here I am, the banker of California," overseeing more than $2 trillion in transactions every year, and holding the distinction of being the first woman of color to hold the position.
She was a top cookie seller for the Girl Scouts, and lightheartedly likened those skills to her job now: "You have to sell those cookies, you have to collect their money; and you see your neighbors all year until next year when it's time to sell them cookies again."
She started her own tax practice when she was 28, after a stint with real estate tax firm Ernst & Whinney.
She served on the San Francisco Board of Supervisors from 2002-06, and was an elected member of the State Assembly from 2006-2012.
From 2015-19, she also served on the State Board of Equalization.
She is a member of the Screen Actors Guild, and was instrumental in helping recruit Grandave Studios to select Banning as the site of its future studio, now in development around the Banning Municipal Airport.
Grandave Studios's owner Ruben Islas was among the many dignitaries at the event, and his financing firm Grandave Capital, along with developer Rancho San Gorgonio, Waste Management, and Cunningham-Davis Corporation was a Platinum Sponsor of the program.
State Senator Rosilicie Ochoa Bogh, in attendance with her husband, Yucaipa's Mayor Greg Bogh, conducted the swearing-in ceremony for the 2021 chamber's board of officers: owner of Precision Material Handling, Robert Ybarra, president; owner of Weldor's Supply & Steel, Paul Smith, vice president; owner of Rio Stone, David Lopez, secretary; co-owner of TruckWorks, Denise Ward, treasurer; and board members Carlos Trejo, Ruben Cruz, Oleg Ivaschuk, James Eshelman, Diana Benhar, Coula Ringold and Frank Burgess.
The chamber also honored individuals, businesses and organizations for going above and beyond to support the community.
The recipients for 2021 follow.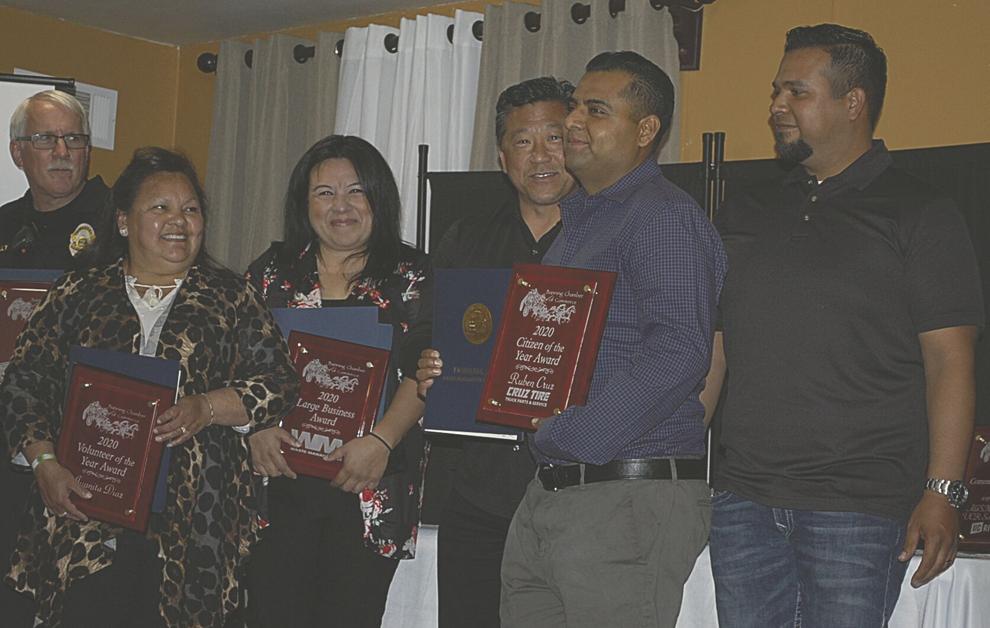 Citizen of the Year: Ruben Cruz, owner of Cruz Tire & Truck repair shop, who rescued Casa Cruz Restaurant before it could go out of business, purchasing it in 2011.
Volunteer of the Year: Juanita Diaz, a volunteer extraordinaire who has organized community clean-up events and served on boards such as Little League, offers up her home to provide shower and laundry facilities to those in need.
Chamber Member of the Year: Oleg Ivaschuk, owner of Xenia Racing Wraps, is a Russian transplant who volunteers on several committees and organizations around the city.
Leadership Award: Daniela Andrade, a Romanian transplant, is a recently retired city councilwoman who volunteers with Feeding America and the chamber, and is often seen with her grandchildren cleaning up Sylvan Park. She was accompanied by her husband, former school board president Alfredo Andrade.
Emerging Leader Award: Paul Smith, and his company Weldor's Supply & Steel, provides many sponsorships and donations to local events and sports programs.
Large Business Award: Waste Management has been a staunch supporter and regular sponsor of events such as the chamber's Banning Market Night street fairs, the Banning Street Drags racing events, and food distribution programs.
Nonprofit Award: Kids Cures Foundation, spearheaded and tirelessly promoted by founder Shannon Smith, which operates food distribution programs around the Pass area to the needy, and supplies care packages to children undergoing treatments at area hospitals.
President's Award: Stg. Patrick Kelly, Banning Police Department, oversees the Police Explorer Post 1250, and is an investigator with his department; he helps coordinate the Shop With A Cop event every year.
Lifetime Achievement Award: Army veteran Frank Burgess, a Missouri transplant and former Banning city councilmember who helped transform the restaurant row portion of Ramsey Street. He is one of the longest participating members of the Banning Chamber of Commerce.
Staff Writer David James Heiss may be reached at dheiss@recordgazette.net , and messages may be left at (951) 849-4586 x114.