Marion Ashley has left an indelible legacy on the San Gorgonio Pass in his 16 years serving Riverside County as the representative for the Fifth District.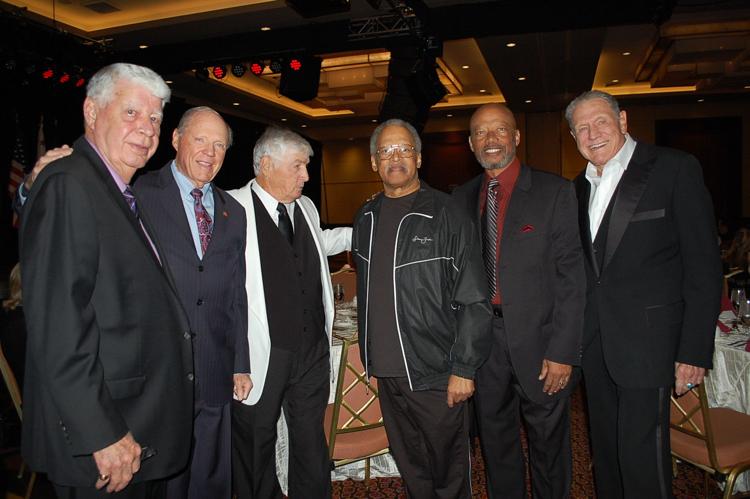 So many projects, so many buildings, so many organizations have benefited from his projects and support.
It was an honorable gesture that the Banning Chamber of Commerce paid tribute to him at their annual installation of officers dinner last weekend during a catered event at the Morongo Casino, Resort & Spa.
Among the dignitaries who remarked on Ashley's contributions were former L.A. Dodgers player Derrell Thomas and Morongo Band of Mission Indians chairman Robert Martin.
Ashley had been retired from public service for all of five days when the chamber held its dinner Saturday evening, when they swore in the officers for 2019 and honored Carol's Kitchen, a soup kitchen serving the hungry, with a $1,000 contribution.
A year ago, the chamber was legally struggling to keep its name, and only recently reverted back to calling itself the Banning Chamber of Commerce.
Ashley and his wife of 63 years, Mary, were playfully chided by former Banning mayor George Moyer, who emceed the event, pointing out that Ashley was so busy serving the county that he was hardly ever "home enough for them to get into fights" and diminish their decades-long marriage.
Chairman Martin, a 1969 graduate of Banning High School, "had the pleasure of working with Marion Ashley for many years," and described him simply as a man of "respect, commitment and honor."
"When he gives you his word, he doesn't back down," Martin said.
He credited Ashley with having strengthened public safety, better traffic and flood control, and advancement of public health during his tenure.
"He's a true friend to Riverside County and the San Gorgonio Pass, and we're grateful to his vision and leadership," Martin said. "You truly love your work, and we're better for it."
Derrell Thomas, a first round draft pick who was part of the 1981 World Championship L.A. Dodgers baseball team, and whose brother Lorenzo Thomas is a former Banning chamber board member, considers Ashley to be "a mentor" — as well as an avid Dodger fan.
While "I got to live that dream, I always learned something new talking baseball with Marion Ashley," Thomas said. "His mentorship has been rewarding, and he has been an avid supporter of my youth program."
Banning city councilman Art Welch, representing Sen. Mike Morrell, called Ashley "the man of our time."
"This man has given time and energy to improve the way of life for the residents of the county," Welch said, and credited Ashley for county achievements such as a couple of new courthouses (including the Banning Justice Center), childcare centers, and echoed sentiments of better public safety and traffic circulation resulting from Ashley's efforts.
Ashley took a moment to acknowledge everyone's comments, and explained, "All roads and utilities go through the Pass. I've spent a lot of time and energy here, and have had the pleasure of getting to know a lot of really good people. I'll see you later, because all roads lead to the Pass."
Staff Writer David James Heiss may be reached at dheiss@recordgazette.net , or by calling (951) 849-4586 x114.