A pre-litigation settlement agreement unanimously approved by Banning's city council at its Feb. 9 meeting resolves a series of disputes between Banning and Irvine-based Tri Pointe Homes (formerly Pardee Homes), which has been moving along with the 1,543-acre, 4,862-home Atwell master-planned community along Wilson Street and Highland Springs Avenue.

A series of issues had festered over the past year or so, and were narrowed down to four key points, which City Manager Doug Schulze outlined in a presentation for the council.
The issues seemed to arise over semantics and "missing definitions or ambiguous text" in the development agreement that was outlined back in 2012, while others resulted from delays in construction "due to events beyond the control of either party, and then more recent delays and economic and legal impacts caused by COVID-19 pandemic."
Homes in the Atwell community start in the high $200,000 range.
Extension for earned credits, or waivers
A year ago in February and March Tri Pointe received building permits for 479 dwelling units, but had not begun construction of any of them by Feb. 10, 2020, the deadline the city had set if Tri Pointe wanted to receive a credit for, or waiver of, the city's traditionally imposed development impact fees on those initial dwelling units.
Tri Pointe had contended that the agreement did not intend the term "commencement of construction" to mean a "physical" construction of each unit, believing instead that the city expected the approval of plans and the pulling of building permits for those units by February.
The city and Tri Pointe resolved the issue by establishing a solid definition for "commencement of construction" to be "the completion of the first city inspection on the foundation for a unit," and "commencement of construction of all those 479 dwelling units no later than Dec. 31, 2022."
The resolution involves Tri Pointe making monthly payments for the next 10 months that will total $3 million for unrestricted use by the city, infusing the city with operating capital that it sorely needs, Schulze explained.
Tri Pointe gets flexibility for commercial entity
In 2012 the development agreement stipulated that the Atwell project would lure a "big box" retailer as the anchor tenant for the commercial site that is included as part of the first phase of development.
Schulze explained that an earlier requirement to find a tenant for the 75,000 square-foot facility on a 23-acre site at the corner of Highland Springs Avenue and Wilson Street "made sense" in 2012, but has become too prohibitive in 2021.
"Many big box stores and grocery stores have downsized their footprint," and it could take decades before a "big box"-style retailer found that location appealing, Schulze explained.
Also, "We feel it's inappropriate to have a Costco, or a Target or something of that scale at that location" when other spaces in the city could better accommodate such retailers, Schulze said. Also, "Highland Springs just can't take any more traffic" in addition to what will be generated by the residents of Atwell once it has been built out.
The city agrees that attracting a big box store to that commercial site is unfeasible, and "in light of economic, societal, and other changed circumstances, and in recognition of Pardee's inability over many years to find a suitable user" for the commercial site, Banning is on board in letting Tri Pointe find a smaller, maybe more regional anchor like Stater Bros to cater to the needs of the Atwell community, rather than choke up that end of Highland Springs Avenue with increased visitor traffic.
The city gets to approve the anchor tenant for that commercial-retail site.
Tri Pointe gets to build additional units under building code
The city has agreed to let Tri Pointe move forward with 355 units that will be in addition to the 479 already under way whose model plans were approved under the 2016 California Building Code, which expired Dec. 31, 2019.
Tri Pointe expects to seek building permits for the additional 355 units this year and next.
Before the city issues building permits or group permits, Tri Pointe "must provide assurance" along with the building official to show that there is adequate water and sewer capacity for each of those dwelling units.
With the city and Tri Pointe's resolution on this point, potential litigation and expenses incurred from delays of development can be avoided, and Tri Pointe can move forward with its second and third phases of its project "at a steady and uninterrupted pace without significant delay" that could otherwise occur by having to develop and then implement new model home plans.
The agreement permits Tri Point to stick to 15 approved model plans under the 2016 construction code that were affirmed in 2019.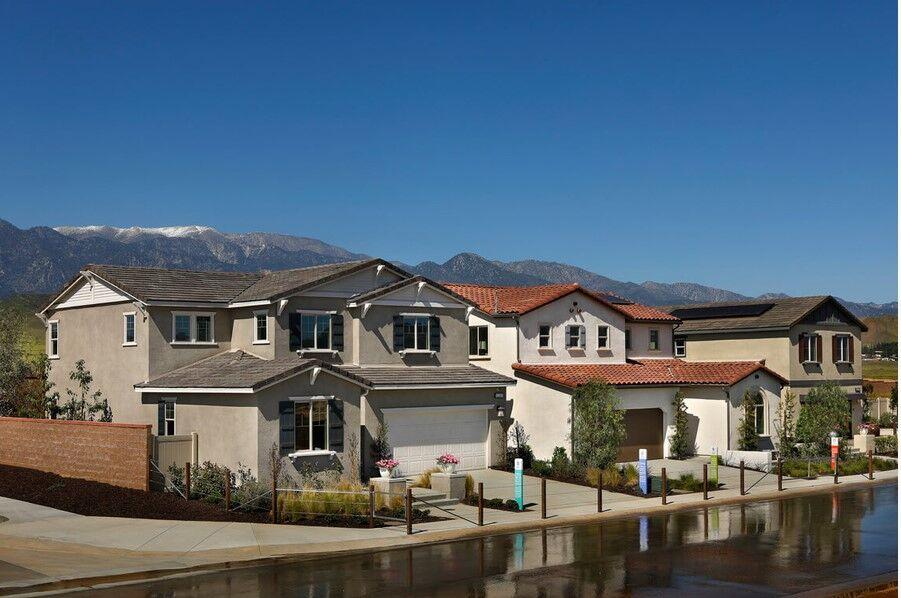 Tri Pointe has five planning areas under way: 107 units in the Arroyo district; 109 units in Ciengega; 57 units in Horizon; 120 units in Centerstone; and 86 units in Landmark.
City agrees to provide a full-time building inspector at Atwell site
The development agreement calls for a full-time building inspector dedicated to providing services just for the Atwell site, at Tri Pointe's request.
The inspector will be tasked with inspections of all dwelling units for the next 10 years.
Tri Pointe will provide at its expense on-site facilities and a furnished construction trailer for the inspector, which would complement any space and apparatus that person would have access to at city hall.
The city believes that the arrangement is "financially feasible because the anticipated revenue from building permit fees from the Atwell Project are estimated to be sufficient to pay the salary and benefits" of the position, according to the city's staff report.
Banning receives $3 million as part of settlement
Tri Pointe has agreed to pay 10 monthly installments of $300,000 to the city's general fund beginning in March and concluding in December.
Tri Pointe has also agreed to pay the city's costs of negotiating the settlement agreement so that the city's resources are not used for legal expenses related to the multiple issues of interpretation between state and local laws and regulations.
If the city does not have a dedicated inspector for the Atwell project ready to start work as of April 1; or, if that person does not work at the Atwell project for any calendar month due to the inability or unavailability of that individual, Tri Pointe can defer those payments in $100,000 increments beginning Jan. 1, 2022 until all deferred payments have been made.
City manager Schulze explained that the cash payments will help the city as it struggles with operating revenue, to pay for providing basic municipal services, and that the city will avoid using funds towards any long-term commitments.