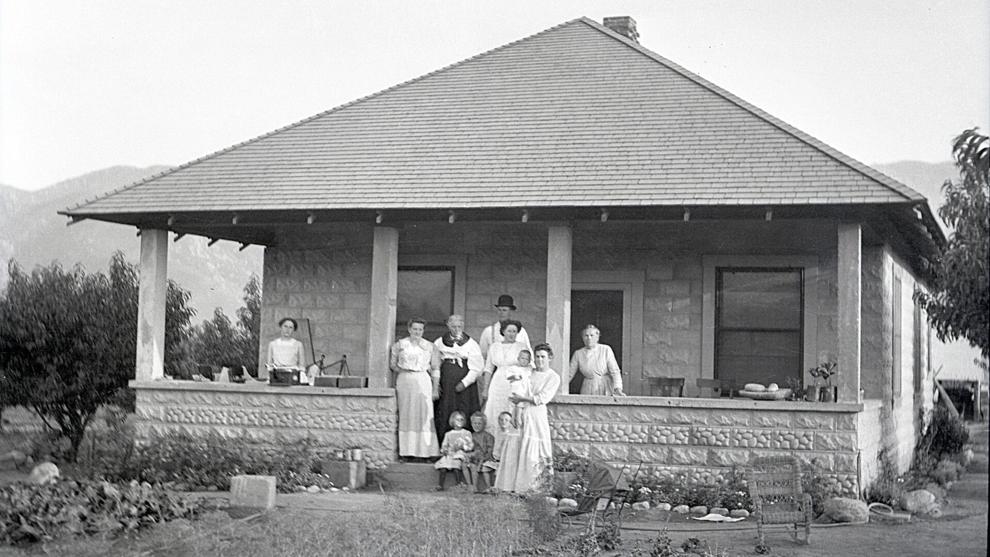 BY DAVID JAMES HEISS
Record Gazette
When Denver Biby steps into what's left of 778 W. Westward Avenue where 8th Street dead ends, nostalgia — and maybe a little disappointment — is conjured up.As a kid, he would visit the former homeowner Donna Hewlett, and hang out with her son EJ.
EJ and Denver are 1954 graduates of Banning High School.
They would camp out in the screened-in front porch.
Long before Biby visited the Hewletts, Donna Hewlett's parents bought the home from one of Banning's original pioneer families, the Jost family.
Donna would eventually buy it from her parents.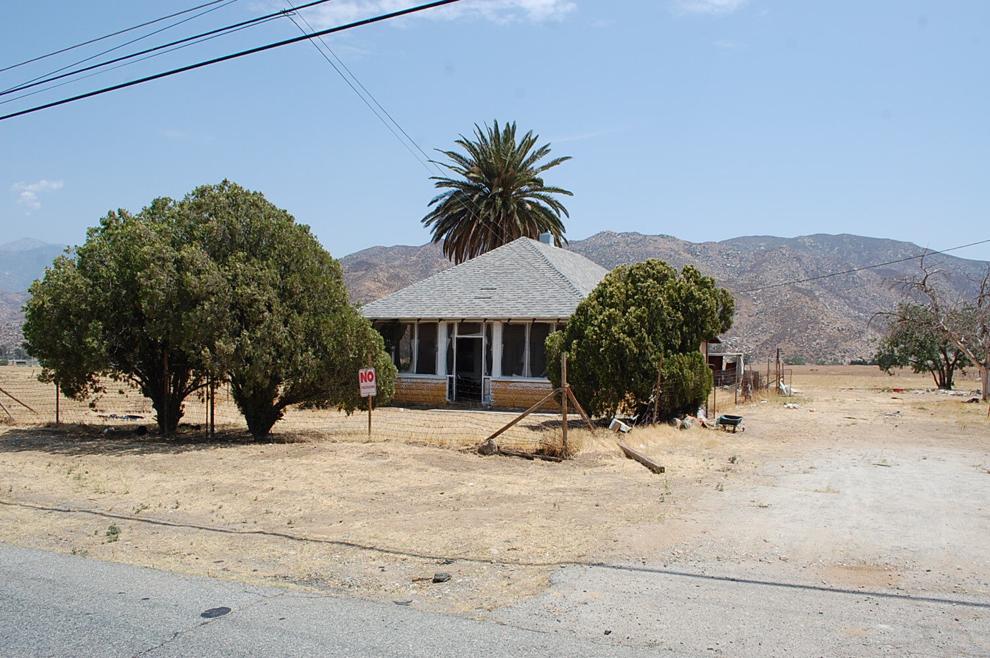 She passed away in 2012 at the age of 99, by that time as a resident of Melba, Idaho.
Just inside the front door, as Biby now peers into a relatively empty room with wooden floor tiles that are starting to give way to reveal a foundation that hasn't seen light in over a century, Mrs. Hewlett would sleep on one of two couches.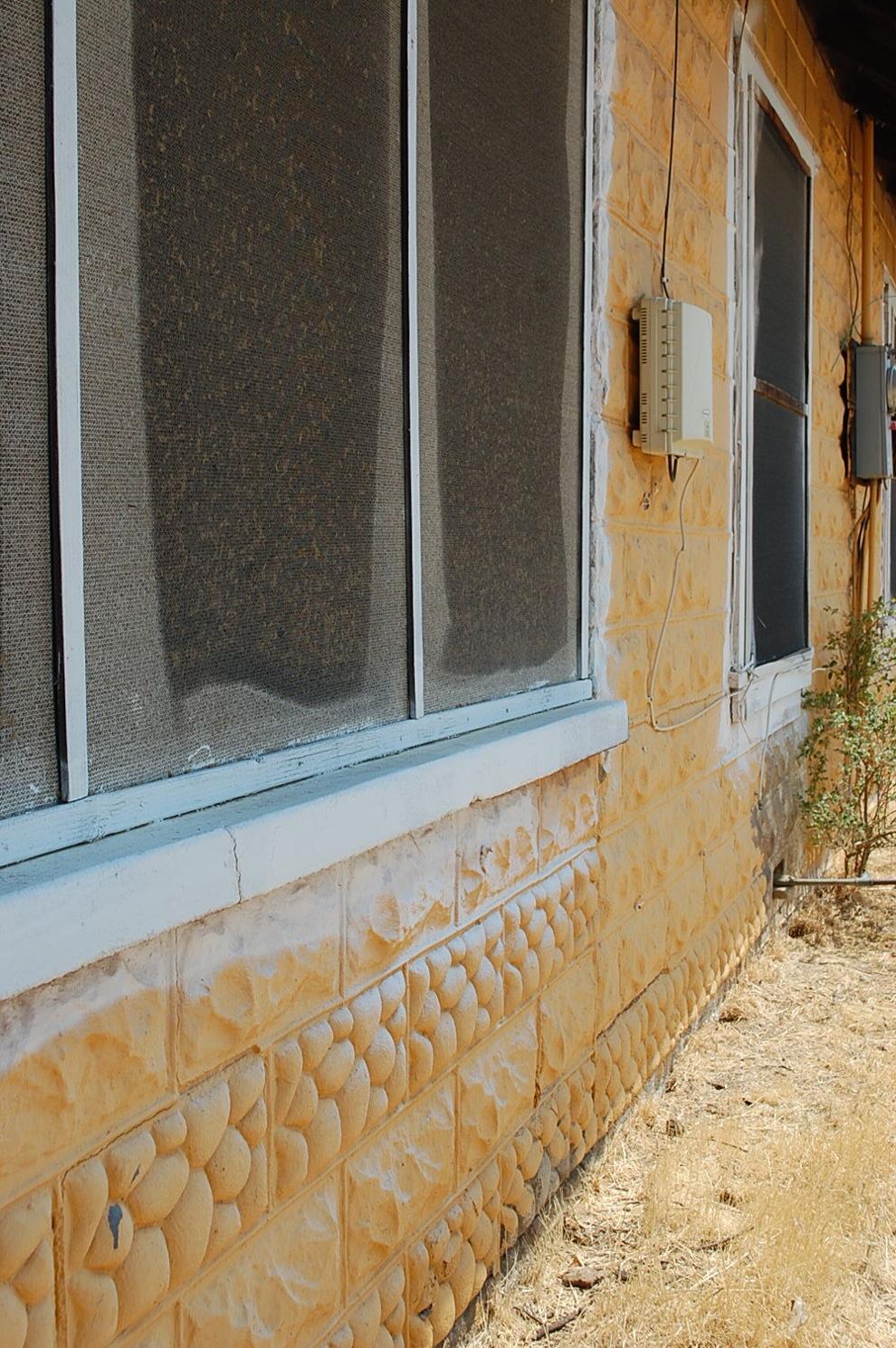 "She didn't sleep in a bedroom," despite a couple of adjacent ones, Biby says. "Since she didn't have heat, it was cooler in the main room. And in wintertime, it was cold," and for years she did not have heat.
"Sometimes I'd come over" during her later years and find her sleeping, and "I'd lay on the other couch and take a nap," Biby recalls.
In the latter years of Hewlett's occupation there, Denver and Susie Biby were her go-to folks when she needed rides, or something fixed.
"She would never claim that she had caretakers," warns Susie Biby. "She was a proud, stern and independent woman" who ignored her doctor's recommendations and was strong-headed.
For awhile, she appointed her son EJ as executor of her estate; at some point, she disowned him and offered to have Denver Biby be executor, which he turned down.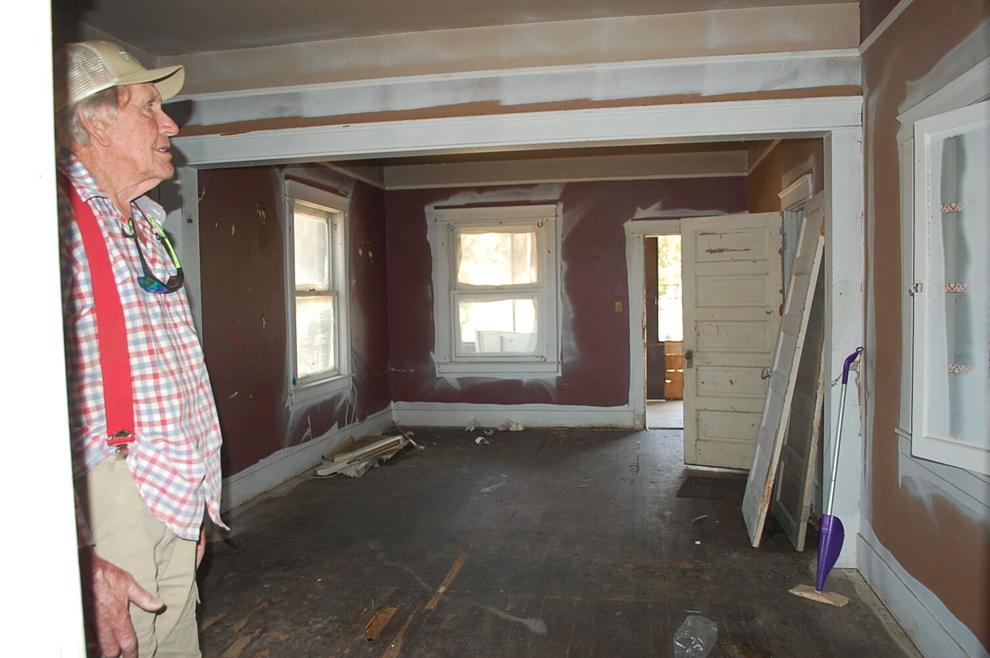 When Hewlett's grandson Brad talked her into naming himself executor of the estate, he did the unthinkable that no one in her family, and none of their friends would have agreed to: he sold it to the Banning Unified School District.
"A developer came through once years ago and offered to buy her place for a million dollars, and would have let her stay on the property for as long as she needed to until they started building. She wouldn't sell," Biby says. "She wanted something to give to her grandsons."
It used to be 10 acres that included ranchland where Biby would keep horses after her death.
There was an old barn and a separate garage that became dilapidated over time, and Biby helped tear those down when the city's code enforcement officials ordered them to.
"At some point 8th Street was going to continue up through to Idyllwild, which I think will still happen; that took an acre" from her property, as it would run literally right past her house, Biby says.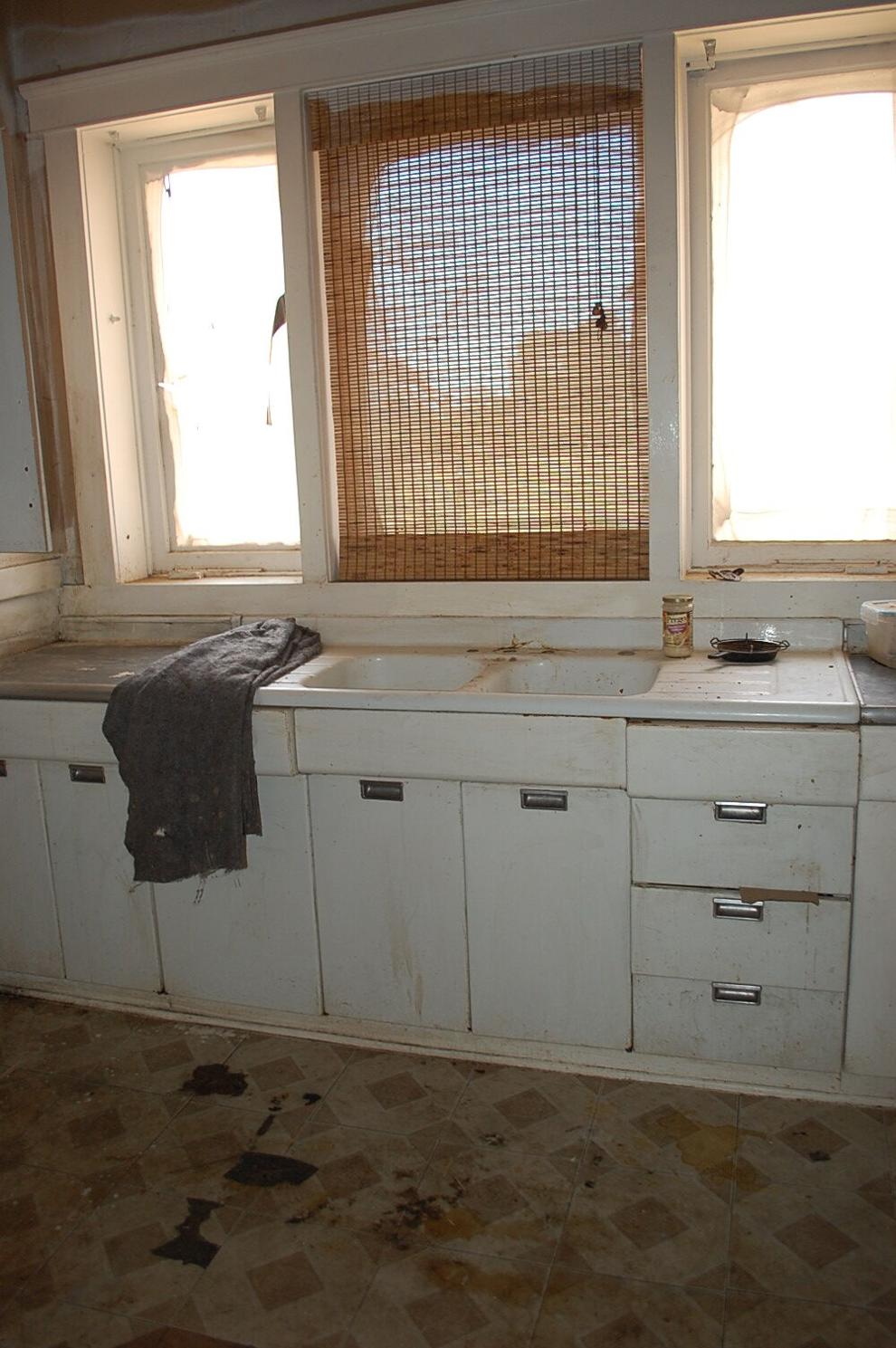 Susie Biby recalls that, at some point, Hewlett realized she was still paying the county taxes on 10 acres, and wanted her money back for that extra acre she had been paying on, but no longer owned.
"She had us driving down to Hemet" to find the records, Susie Biby says. "That's when we learned that her property used to be part of San Diego County," but discovered a statute of limitations had passed in qualifying her for those refunds.
Hewlett's home at 778 Westward Ave. encompasses 9.1 acres and was acquired in 2015 for $270,000 by the school district, which also acquired 654 Westward Ave. nearby for the same price, in 2018.
That home was demolished as of June 15.
The assessed value for 778 W. Westward, according to data recorded June 1 for the June 23 school board meeting is $367,824.
As the property's caretaker in more recent years, Denver Biby rented out the home a few times, evicting the last renter when they failed to pay rent.
No one has legitimately lived in the house for years.
Vagrants now drift in and out.
Biby claims that the school district gave him permission to access the property if he needed to retrieve anything related to the Hewletts, and offered a reporter a tour.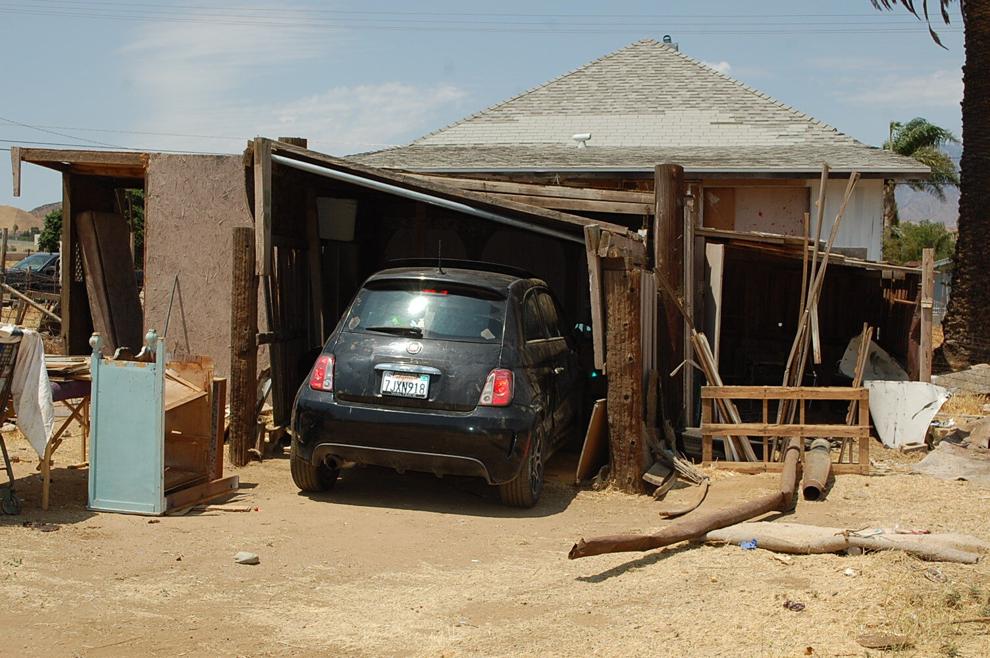 A dog barked as he entered; a man shouted at it and came in and retrieved it before retreating to a car parked in what was a horse stable behind the home; he started it up and sat in it with the air conditioner running.
"Someone stole the four-clawed bathtub before I could remove it," Biby says, pointing out the spot in the tiny bathroom.
He opens the door to what was a bedroom; a shirtless man lies in semidarkness on a mattress and doesn't seem to acknowledge the presence of other human beings.
Biby continues his conversation in front of him.
"She lived here without heat for years. We installed a hot water heater for her" at some point, and electricity, too, since the home was built without it.
"It was her father's property — so was one immediately to the east," Biby says. "She was always afraid someone was going to take it."
Despite living on $900 a month, she refused to sell to the developer that offered her $1 million.
Biby managed to keep his horses on the property until a few years ago, but the city shut off the water to the property.
The school district has five years from the time of purchase to use a property for school purposes. Upon the fifth year, the district is assessed a fee which is paid by the Riverside County Office of Education on the district's behalf.
According to the district, of the six vacant properties currently not being used by the district, there is only one 10-acre site that will assessed a fee for 2020-21 for $5,343.
Local historians have expressed disappointment that 778 W. Westward Ave. is doomed to be demolished.
Former Banning Library archivist Bill Bell, seems to remember that the home represented several from its era with what, in his recollection, involved flagstone construction.
"It's an extraordinary example of late 1890s or early 1900s that depicts the architectural styles and construction" of that time, Bell says.
"The fact that it is one of the last vestiges of the Jost family makes it all the more important," Bell says.
The Josts were prominent for their agricultural fields, which were hosts to some vintage early airplane stops before airports existed, Bell says.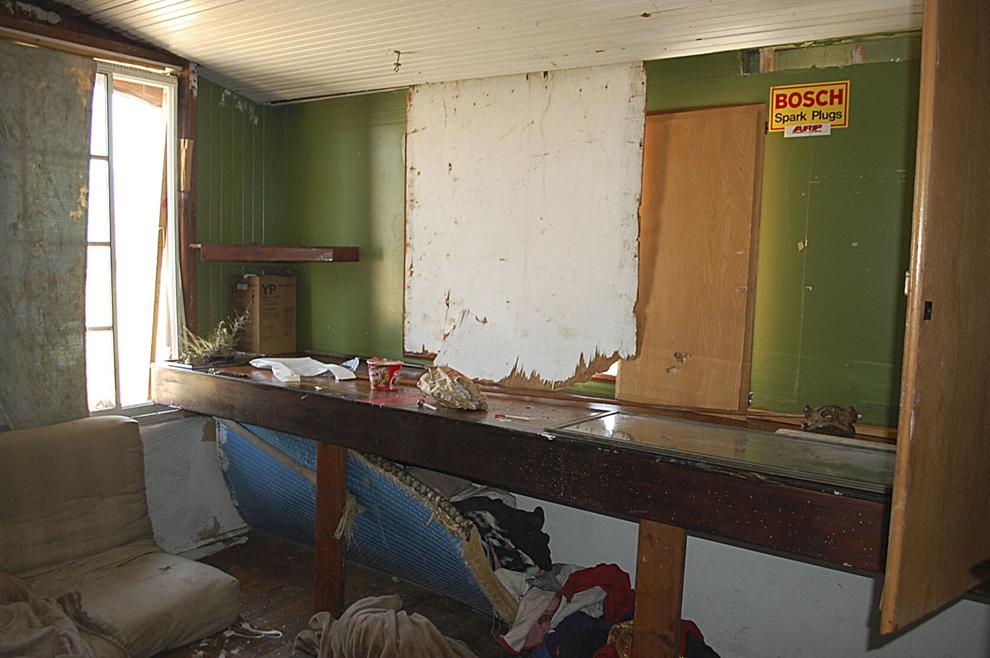 Polli Jost Turner, a descendent, grew up in Banning never realizing until later in life, when her older sister pointed out the house as they passed by, that 778 W. Westward was once their family's property.
"I'd driven by it many times but never have been inside it," Turner admits. "Sometimes there are just things your parents neglect to tell you" about.
She has no nostalgic ties to the home, and now lives in Washington. "If it doesn't have value to someone, then it's just an old house," Turner says. "If the school district wants to tear it down to do something with that property to benefit students, bless them. I'm glad it's at least being documented on paper."
The current library historian Francisco Ramos indicated in a statement "Several weeks ago the school district reached out for historic information regarding that home," requesting its provenance and age, as it was considering demolishing the edifice.
It was not among homes surveyed by the county as part of an historic cataloguing project, Ramos says.
"However, several homes were surveyed that neighbored this home and were among the same style and construction as 778 W. Westward," Ramos says. "Although I'm not an architectural historian, the construction styles often are the same for similar homes in the location, and are often used to date other homes and buildings of the period," as he points out is mentioned in the county's surveys.
Ramos says that the city did not have any records for the house to offer clues to its provenance, other than a roof repair in the 1990s.
Ramos, relying on online real estate sites such as redfin.com , agrees that a fair estimation for 778 W. Westward's construction is approximately 1910, which "would make the structure among the oldest in the city," Ramos says. "I believe the home is over 100 years-old and historic in nature because of its age and, if proven true, it would be among the early homes created by some of the first residents of Banning" before the city was incorporated in 1913.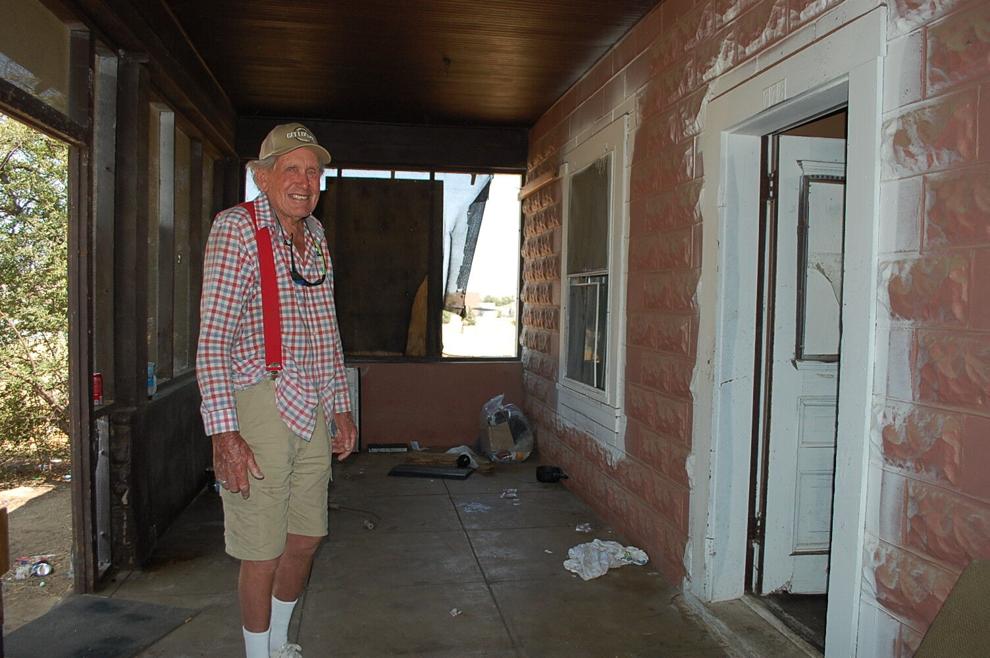 San Gorgonio Pass Historical Society clerk Laurie McLaughlin believes the home may have previously been occupied by the Fountain family, adjacent to the Barker family ranch.
Local historian Bernie Howlett confirmed through old phone books that Edward J. and Donna E. Hewlett inhabited the home between 1948 to 1952.
According to Biby, the home has been unoccupied for about 10 years.
Denver Biby does not recall who he went to previously, but "We tried to get the home registered as an historic home, but nothing ever came of it."
The school district is working on finalizing the approval process with the city to demolish 778 W. Westward Ave.
It has not specified its intentions for the site.
Staff Writer David James Heiss is a board member of the San Gorgonio Pass Historical Society. He may be reached at dheiss@recordgazette.net , and messages may be left at (951) 849-4586 x114.