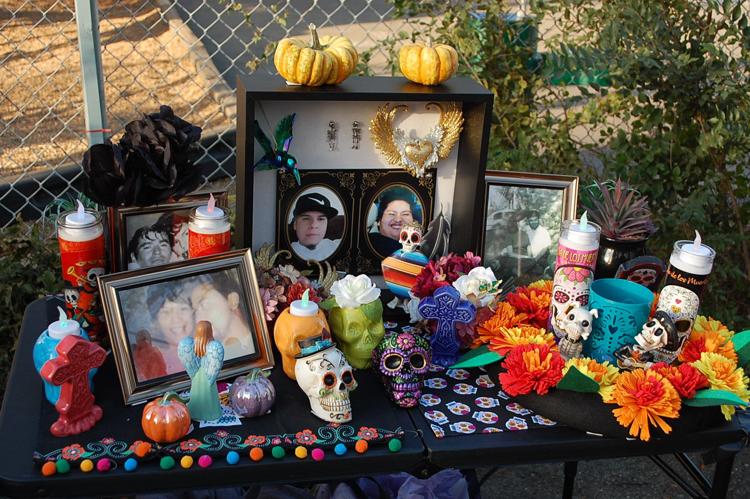 Last Saturday afternoon, Toti's Art Studio in Banning celebrated Dia de los Muertos, the Day of the Dead event observed primarily in Mexico in which surviving relatives remember loved ones that have passed away and moved on in their spiritual journeys.
The day of celebration awakens their spirits, and it is believed that those in the spiritual realm and those of the living celebrate as one.
Among those honoring deceased loved ones was Frankie Norzagaray who came out from Tuscon, Ariz. His aunt Gloria Toti Bell coordinated the event.
At the main ofrenda he was filling notes of appreciation depicting the names of late relatives, including his grandfathers Frankie and Francisco, his grandmother Gloria, uncle Johnny and godfather Bimbi, and aunt Chris.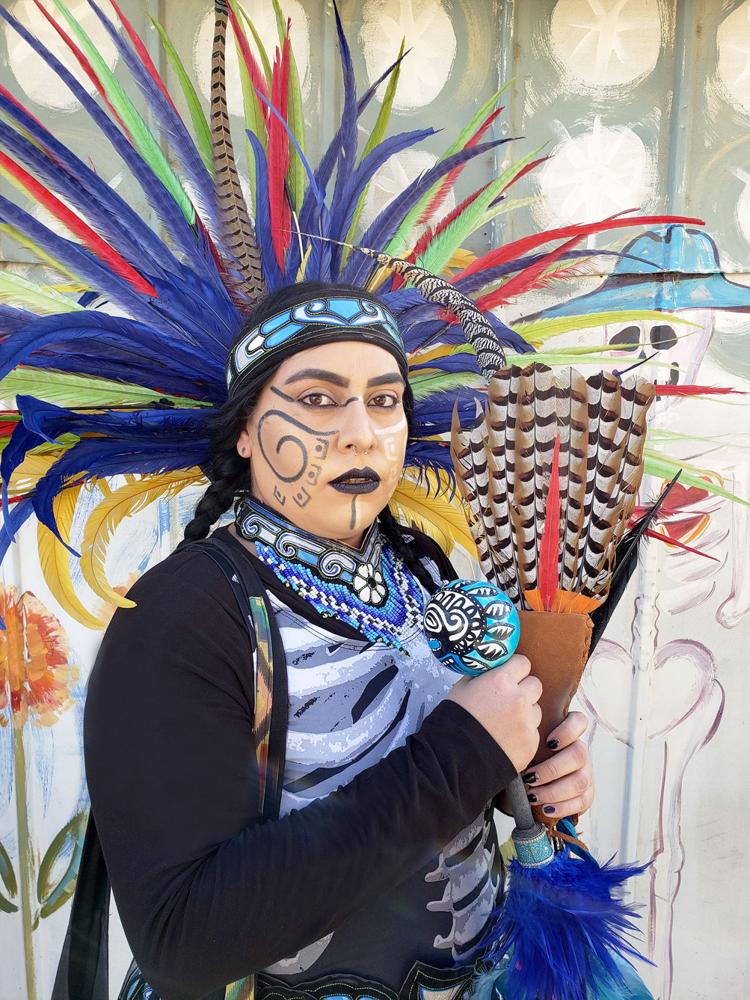 "This event brings people together," Norzagaray said. "We've all had people pass away. This is their day, when we remember them with music and this shring, and hot chocolate and bread and artwork."
Studio owner Bell welcomed guests as they walked by artisans that sold original art, crosses, pastries and objects adorned with the likeness of Freda Kahlo and other trinkets.
"This is our sixth annual celebration of Dia de los Muertos," Bell said. "I am just enamored with the art and history that is celebrated with Dia de los Muertos. It truly is a beautiful event to behold. Day of the Dead is all I do."
To commence the festivities, Bell recited a prayer.
"We are gathered here today, with love in our hearts and the memories of those that have gone before us," Bell said. "Who, we will forever keep alive within us. We will walk, and with each footstep, we will kiss the Earth, in remembrance of those we love."
Bell offered an invitation to the departed to join the group, in love.
After her prayer a group of Aztec dancers from Danza Azteca Citlaltonac entered the grounds, followed by someone burning sage, as a blessing to all.
The dancers performed to an engaged audience.
"I've been into art my whole life," said Sierra Diaz, an art student of Bell. "Gloria is family. "She'll let me be here, from morning to night, to create whatever comes from my passion."
Among those honoring deceased loved ones was the family of Gilbert Albert Avila Jr, a 26 year-old man who was killed last April after being struck by a car in Cathedral City.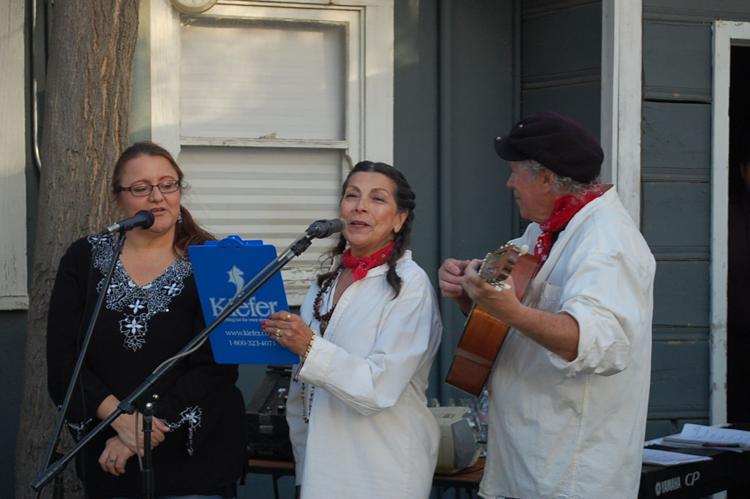 A couple of ofrendas were created by his sister Christina Avila. Joining her to celebrate his memory were his grandmother Lupe Estrada, mother Mary Helen Rios, uncle Leslie Rios, and sister Marlena Salgado. Leslie Rios also had set up an ofrenda to honor his grandparents Luis and Emeteria Estrada. Their ofrenda included a model train, recognizing Luis's years of service as a section foreman for the railroad.
Bell had several art students, ranging from 10 to 20 years of age, selling their original artwork. In the small area outside, in the rear of the studio, there were four altars, or ofrendas, that were assembled to show the lives of loved ones gone. Susan Bowers, a vendor who came down from Hansville, Wash. to participate in her third Dia de los Muertos event at Toti's Studio, also took the opportunity to visit her sister Janet Wales in Cherry Valley.
"I'm a friend of Gloria's, and my mother and sister live here," said Bowers, explaining why she traveled so far to display and sell her Day of the Dead-themed crafts. "Gloria goes all out to have this event, and I love that it helps with the cultural exchange: I'm Native with Mexican grandkids. It's great to share cultures with the community. People don't always understand Dia de los Muertos."
At dusk, visitors participated in a candle lighting vigil.