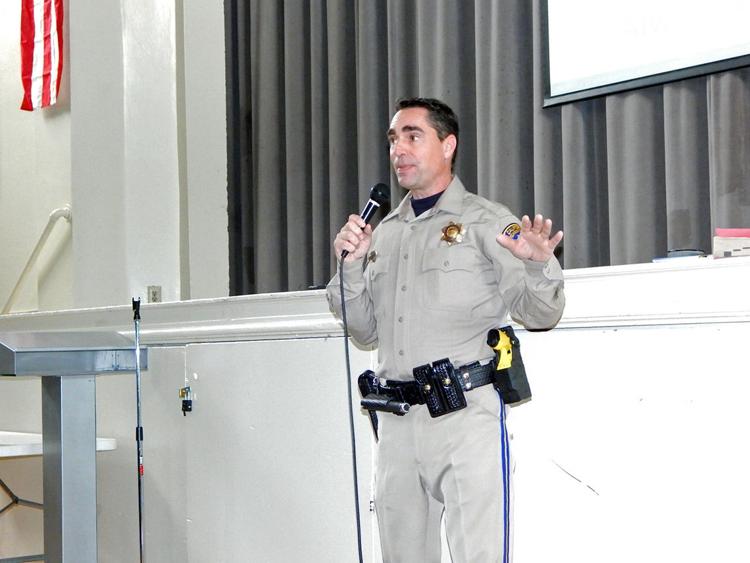 More than 200 seniors brushed up on their driving knowledge Friday morning during a Senior Driver Safety seminar at the Beaumont Civic Center.
The seminar was sponsored by Sen. Mike Morrell (R-Inland Empire), Riverside County Supervisor Jeff Hewitt, California Highway Patrol and the city of Beaumont.
The one-hour class, "Age Well, Drive Smart," was given by CHP Public Information Officer Darren Meyer of the San Gorgonio Pass area office.
It is designed for seniors 65 and older.
"The goal today is to become a safer driver," Meyer said.
He started off the program with the fact that 4.4. million licensed drivers are over age 65. In the age category of 80 to 89, there are 663,000 drivers and 101,000 drivers over age 90.
The oldest driver in the U.S. was 107 when she died in 2015.
Meyer said that senior drivers share similar behaviors when it comes to driving: they take fewer risks, are more patient, and are more compliant with the law.
But there are health impacts that seniors face as they age such as: impaired vision, cognitive impairment, decreased strength and mobility, and medical conditions.
Meyer said that two-thirds of drivers over 65 take five or more medications that can affect their driving.
Meyer said that one in three traffic fatalities involves alcohol. Older adults process alcohol more slowly and alcohol intensifies the effects of medication.
Marijuana use by seniors over 60 is 20 times more likely than 30 years ago. It can be difficult to predict the effects on seniors, Meyer said.
Senior drivers need to consult their physicians about any health changes they are experiencing and it also is a time to review their medications. They also can share any driving concerns they may have with their doctor.
Seniors face collision factors including speed, not paying attention, weather and other distractions, he said.
Older drivers fail to yield the right-of-way and make unsafe turns. They misjudge time and distance and fail to see other vehicles.
Meyer said it's important to remember the three-second rule: stop, perception time, and reaction time. The latter two take 1.5 seconds each.
When entering the freeway, enter at the speed of traffic, Meyer said.
In parking lots, look for people walking around and backing up your car.
Distracted driving involves reading, talking, texting, eating, disciplining children, smoking and other things that take one's mind off the road.
Meyer said that driving takes 100 percent of our attention. People ask if hands-free driving is safer. Not necessarily, he said.
The only way that hand held is acceptable is when you have to call 911 in an emergency. You may see someone weaving in and out of their lane; if that happens, it's OK to call police.
If you need to talk, you can pull over to the side of the road and make a phone call.
Seniors also need to be on the lookout for road rage resulting from people who speed slow, then fast, or make unsafe lane changes. They also follow too closely or they lack driving courtesy.
When planning a trip, get directions beforehand; know alternate routes to get to your destination. Check traffic and let family and friends know your plans.
Seniors need to be alert for blind spots by turning their head and looking in the mirror.
Meyer said that senior drivers should place the steering wheel 10 to 12 inches from their chest.
The seniors also were interested in renewing their drivers licenses after age 70.
Meyer said the DMV driver handbook is invaluable.
"Every year, there are new laws added to the vehicle code," he said.
Meyer said that senior drivers need to be concerned if they have other drivers honking or gesturing at them, or family and friends are upset about your driving habits.
Meyer said to keep an eye out for the red and blue lights on top of the CHP car. "If I'm behind you, then we're going to have good chat," he said.
After the program, several seniors talked about what they thought was interesting and why attended the class.
Helgie Mulkey, 77, of Banning, has been driving since 1963. She had a specific reason for attending the class. "For one thing, are they going to get my insurance down?'' Mulkey asked.
Banning residents Dona and Richard Amos, 79 and 84 respectively, also had questions. "For insurance and to learn to get up to speed with what's going on," said Amos, who has been driving since he was 15.