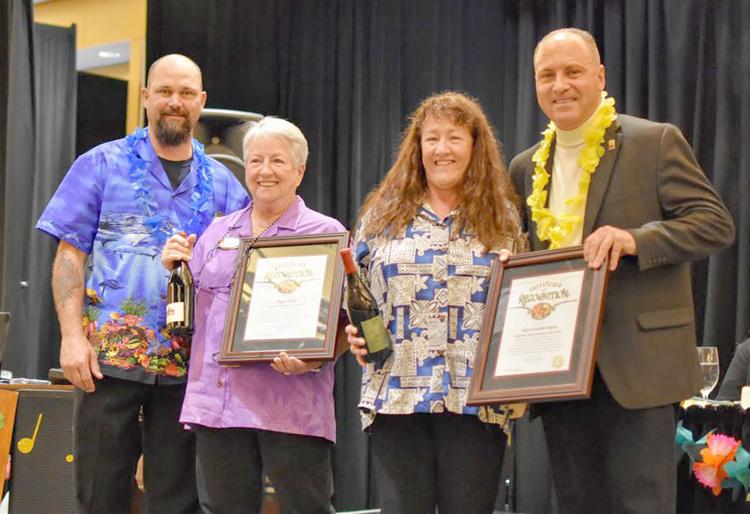 VFW Auxiliary No. 233 was among the auxiliaries in California attending a dinner last Saturday night at Morongo Casino, Resort & Spa honoring the national VFW Auxiliary president Peggy Hakke and State Auxiliary president Mary Ryser.
Hakke, who lives in Hawaii, travels four days a week, visiting auxiliaries nationwide.
There are 154 auxiliaries in the United States and 415,000 members nationwide.
This trip to California was a special one for Hakke because this was the first time that the national president had visited Coachella Valley, where Ryser lives.
Ryser is president of the Indio auxiliary, Post 3699.
There are 21,000 members in California.
An estimated 125 members nationwide and their comrades attended the dinner at Morongo.
Hakke and Ryser spoke by phone with the Record Gazette Friday afternoon during a busy weekend of activities.
Hakke said she joined the auxiliary in honor of her husband,, Richard Hakke, who served in Vietnam and is retired Army. Hakke's father, Vernon Davis Sr., also served in the Army and is a World War II, Korean and Vietnam veteran.
Ryser's father, Jacob Francis Ryser, served in the Army and in World War II. He passed away in 2005.
Hakke, a member of the Wilbert Wah Hu Tum Post. 3850 in Maui, visits VA hospitals and also visits auxiliaries to talk about benefits that the veterans should know about.
She has served as president, secretary and treasurer of her auxiliary and as secretary and treasurer at the department level.
Hakke was elected in 2012 to a four-year term on the national council.
Being elected national president is special because she is the first auxiliary president from Hawaii to be chosen.
Her one-year term started in August 2019 and she has been busy ever since, attending conventions and visiting chapters.
"Every state is great," she said.
Jackie Atwood was one of 10 members of the VFW Post 233 auxiliary who attended the dinner.
Post 233 serves Banning and Beaumont.
Atwood said she had a chance to meet and talk with Hakke, whose project is service dogs.
"She's a very warm and caring person," Atwood said.