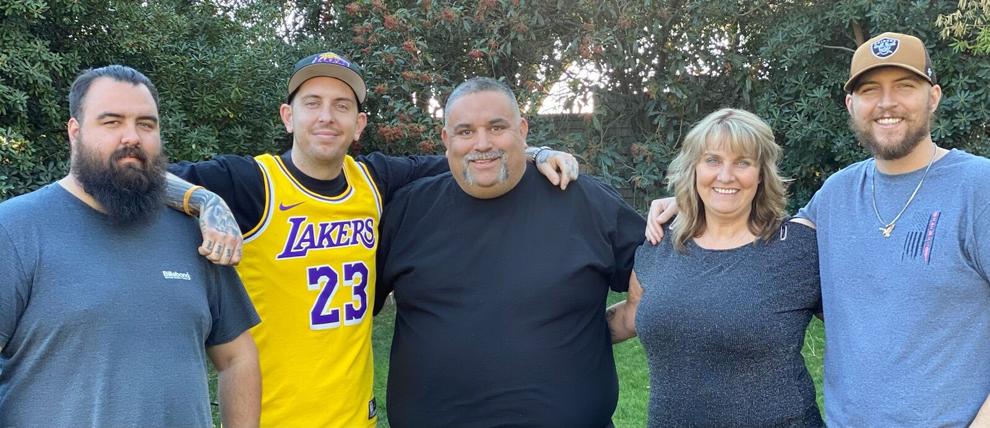 BY DAVID JAMES HEISS
Record Gazette
It would be a challenge to find someone in Banning whose life hasn't been, in some small way, touched by Robert Ybarra.
He's a humble example of someone who takes advantage of an enviable situation to use his gifts and resources to benefit the world around him.
Ybarra, 44, owner of Precision Material Handling in Banning, and president of the city's chamber of commerce, admits that he has not always been a saint, and his past hasn't always been as rosy as the portrait of the current man who serves on public and private boards who gives so much of himself and his company.
Yet Ybarra, named as Banning's 2020 Citizen of the Year, is much more than just a relatively quiet businessman, coordinating things from behind the scenes to make the Pass area a better place.
Sitting in his office at Precision Material Handling one recent afternoon, he is interrupted a couple of times as his phones ring.
First, it's a call to his desk from somewhere else in the company.
Then his personal phone goes off.
He rolls his eyes, and apologizes.
"I have to take this," and chats for a moment.
From the tone in his voice, it was someone he was wary of conducting business with.
A few minutes later, one of his employees knocks and pokes his head in.
It's Banning's Mayor Kyle Pingree, who grins and says "We have to talk," meaning "in private.
Another employee waits outside the door to be summoned in.
For some, this is Ybarra, the businessman who was appointed nearly a year ago to represent at-large the San Gorgonio Pass Water District, the busy man who serves on the board of the Pass EDA and a slew of ad hoc committees, who is ubiquitous at chamber and community events.
He has helped spearhead — and practically singlehandedly paid for — nearly 30 drive-thru food drives outside Banning's community center throughout the pandemic.
That was nearly $3,000 a week that came out of Ybarra's own pocket, he says.
He rescued The Haven coffee shop a couple of years ago for awhile, adding another chapter to that storied place, which has reopened this week as Jitterz Coffee.
He has pitched in to raise funds for the reopening of Banning's animal shelter, sponsoring HVAC materials and plumbing equipment.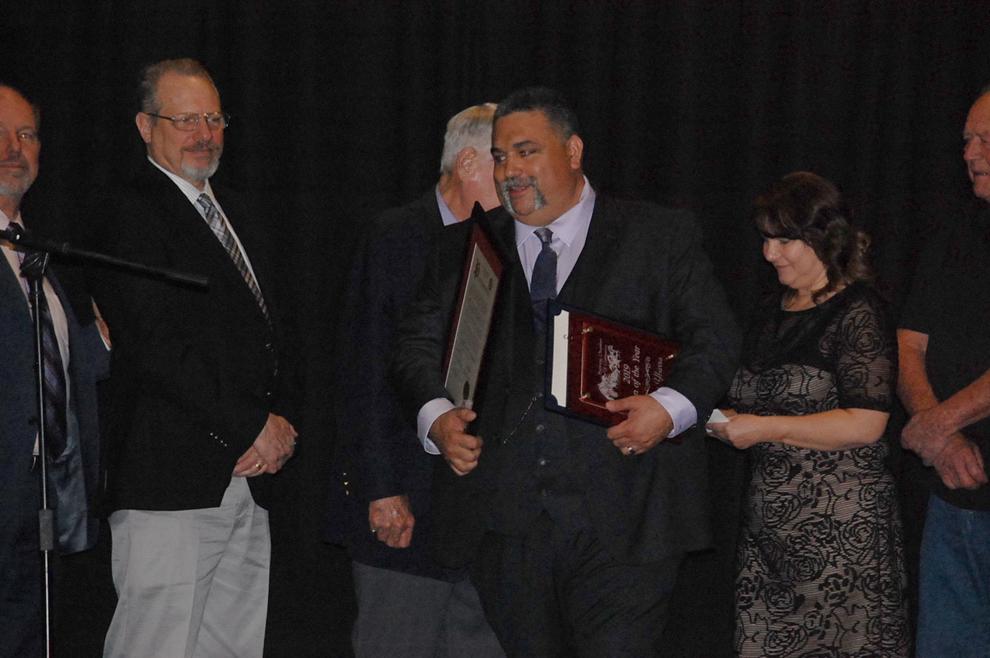 "He has a difficult time saying 'no'" when someone or some organization approaches him for help, according to former Banning mayor Art Welch. "He's a real asset to the city of Banning, and he does an excellent job in anything he does. He did a wonderful job reorganizing the chamber. He's a man who's moving Banning's interest forward."
Ybarra was born in Riverside and grew up in Yucaipa, and attended Yucaipa High School.
His parents, he says, fought developers to try and slow the growth that eventually erupted around Yucaipa.
He made a few mistakes along the way, he says. After a third minor drug charge, he ended up doing prison time for several months in his younger days, an experience he learned and grew from, and is not ashamed to acknowledge it.
Things were complicated when he was caught with stolen property he received that he claims he didn't steal, which resulted in probation.
A violation of probation from drug court landed him in state prison, where he served 10 months out of a 16-month sentence.
When he's interacting with homeless individuals and others down on their luck and trying to encourage them to improve their lives, he explains his story and tells them "If I can do it, you can do it."
Robert, the family man
His son Darrin Harmon, 32, worked for him when they owned The Haven.
His brothers James and Adam work with their father at Precision Material Handling.
"He's the only father I've ever known," Harmon says, describing Ybarra as "a giant Teddy bear."
"He never gets angry," Harmon says.
And whenever he and his brothers would get into trouble, Ybarra wasn't one to lay a hand on anyone to discipline them.
"He'd go through what he's gone through, and you'd get that stern talk about what he's been through," Harmon says. "And if you really did something bad, he has that look — you can see it in his eyes, that real hurt look of disappointment" that can make someone feel ashamed and guilty for whatever they did.
Harmon jokes, "We got caught smoking weed when I was 16. He caught me and explained, 'If your mom found out that you were doing that, she would kill both of you, then she'd kill me!"
Harmon chuckles, because "Our mom would say the same thing: 'If your father found out that you were doing this, he'd kill you!'"
According to his family, Ybarra is a genuinely giving person.
"Even if he didn't have a business, he'd do the same thing he does now," Harmon says. "Whether it's cars, or bikes — if he found out that a kid shows any interest in something, he's going to make sure that kid gets the best bike ever."
Ybarra's company Precision Material Handling contributed to the distribution of more than 100 bikes and scooters to young people a few days before Christmas last December, coordinated with the chamber of commerce and the Police Department.
"He lives for the 15- 17 year-old version of himself," Harmon says. "He went out a few weeks ago and didn't just buy one, but two fire trucks. I said 'Why?' He said 'Because I always wanted one.'"
The trucks were on display at the December bike giveaway.
A businessman rises
Ybarra started out in his industry working for All American Equipment in 2004 in Grand Terrace, training to work on forklifts.
His stepfather Raymond Gyford had encouraged him at the flip of a coin to either start his own business, or go back and work for Clark's Inland Empire Equipment, which eventually went out of business and Ybarra ended up buying out Inland Empire Equipment after starting Precision Material Handling.
In 2008 he worked at Precision Forklift Service; with the help of his mother Mary Ketring he got a $5,000 credit card to start what eventually would evolve into Precision Material Handling out of his garage in Yucaipa, eventually moving it to Beaumont, and then finally to Banning on West Lincoln Avenue.
In 2013 he incorporated it.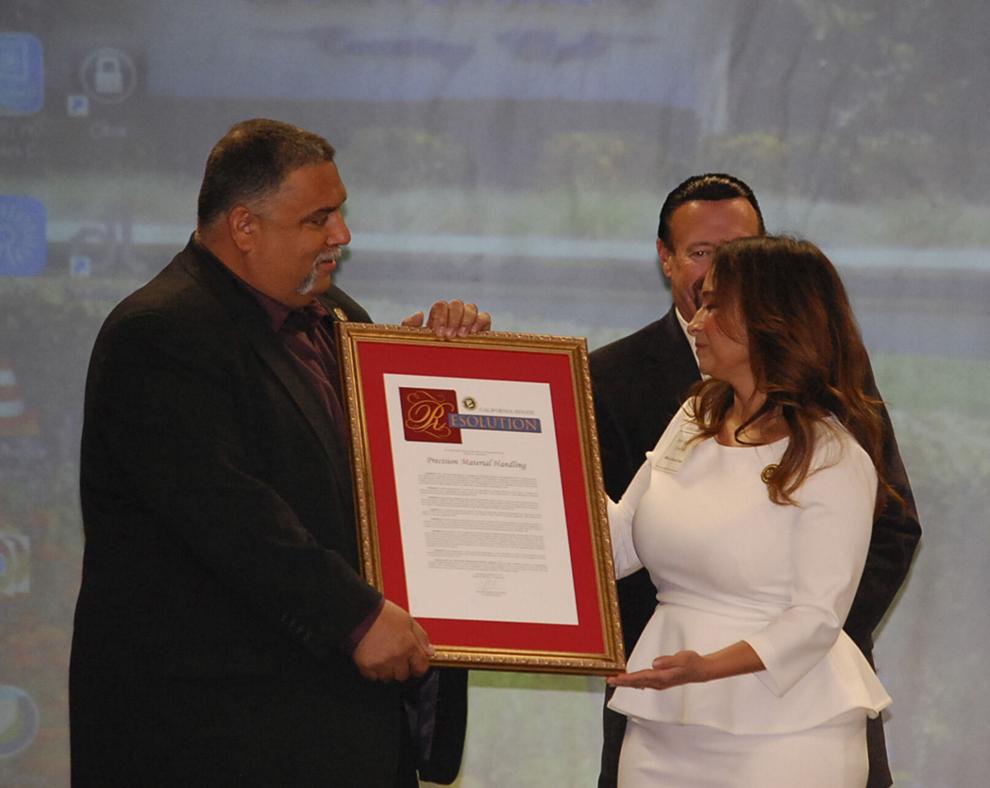 During the California Small Business Day at the state Capitol in August last year, Sen. Rosilicie Ochoa Bogh recognized Precision Material Handling as the 23rd Senate District's Small Business of the Year, stating that his company, along with Ybarra "are a true example of excellency and compassion: Robert Ybarra has worked hard to build a successful business that serves his customers with integrity," but more significantly, perhaps, "He has looked beyond profit and has made a conscious effort to selflessly give of himself and prioritize the well-being of his employees and the community."
Ybarra makes his employees available to help at community events such as the food distribution drives.
Those food drives were inspired by what Ybarra noticed was a need in the community.
"I had the connections to get food, and I had the equipment to move things around," he says. "I've always wanted to give back. I got into trouble when I was younger, and I learned from that. I enjoy giving back. And I want to."
There is no shortage of folks who appreciate Ybarra's contributions in the community.
Lawrence Equipment owner Johnny Lawrence left a message at the Record Gazette upon hearing that a story was being done, saying "Robert Ybarra doesn't get enough credit for what he deserves."
Mickey Valdivia, who serves on the San Gorgonio Pass Water Agency with Ybarra, calls him "an immeasurable asset to our region. Beyond his strong business acumen and noteworthy communal contributions, Robert is a genuine spirit who inspires others to give, support local business, and dreams of a greater community. I'm honored to call him a friend."
Laura Leindecker, a business consultant in Banning, met him during the 1-10 Economic Summit in 2019, when Ybarra promised to support her efforts.
"He did," Leindecker says. "From then on, we have worked on projects, and I realized his word was gold, as we became best of friends. He is a rarity in business and in friendship. He is a man of community, and gives to the community freely: you see he has walked in the shoes that some are walking in, yet everyone sees that smile. The political arena should spend a day or two, or a week, with Robert and find out about constituents and their everyday needs."
Mayor Kyle Pingree, who works as a road supervisor for Precision Material Handling, sees Ybarra as "a hard-working individual who puts others' needs before himself," noting that "He as an employer not only makes sure his employees are taken care of, but their families as well. When everyone was laying off employees during hard times, Robert was offering them jobs with the mindset 'We can make it work.' He cares about the city he lives in, and just wants to help make it a better place to live."
Pingree has seen firsthand Ybarra's generous nature.
"I've seen Robert give his last bit of money to help people without hesitation, and never asking anything in return. He's offered people his home or personal assets to help citizens in the city. He's a believer of what comes around goes around, and proves it with his actions."
Ybarra's wife of 14 years, Kimberly, agrees with their sons that "He's a gentle giant, a big Teddy bear."
When Robert was running a paper route earlier in his career to help bring in extra income, his usual riding partner was unable to go one night, and so Kimberly accompanied him instead.
As she puts it, they've been together ever since.
The public has its image of Robert Ybarra.
"They see the big guy walking around town giving direction and doing this and that," Kimberly Ybarra says. "One thing the community doesn't see that I see a lot, is his worry and his stress. He doesn't show that a lot. I see that side of Robert, where he'll brainstorm: if something's going on in the community, or at his business, or someone's sick, he'll sit by himself in his room, in the dark. And just cry, wondering how he can fix things to make them better. That's the way he is."
Years ago when their sons' biological father was creating a crisis situation, Robert looked at Kimberly and said "Let's just go pick them up."
"They adore Robert. When you ask them who their father is, there's no question," Kimberly says.
She describes her husband as a "super-giving person. If he had $5 in his pocket and you needed $4, he'll give it to you. And if you couldn't give it back as promised, as long as you told him, he's fine with that. Since I've known him, he's Mr. Second Chance, and Mr. Third Chance man. Whether it's loaning money or sending people he knows to rehab to get treatment, he's used his own resources to do that, and they're not usually family members — they're just people. His friendships are amazing, and he has a lot of childhood friends who are still friends with him to this day. He knows a lot of people, but he really has a large circle of close friends."
To that point of him being a giant Teddy bear: "He gives the best hugs," according to Kimberly. "He's just got this spot right under his arm where everyone seems to fit. If you ever need a hug, Robert just gives the best hugs ever. It's the craziest thing."