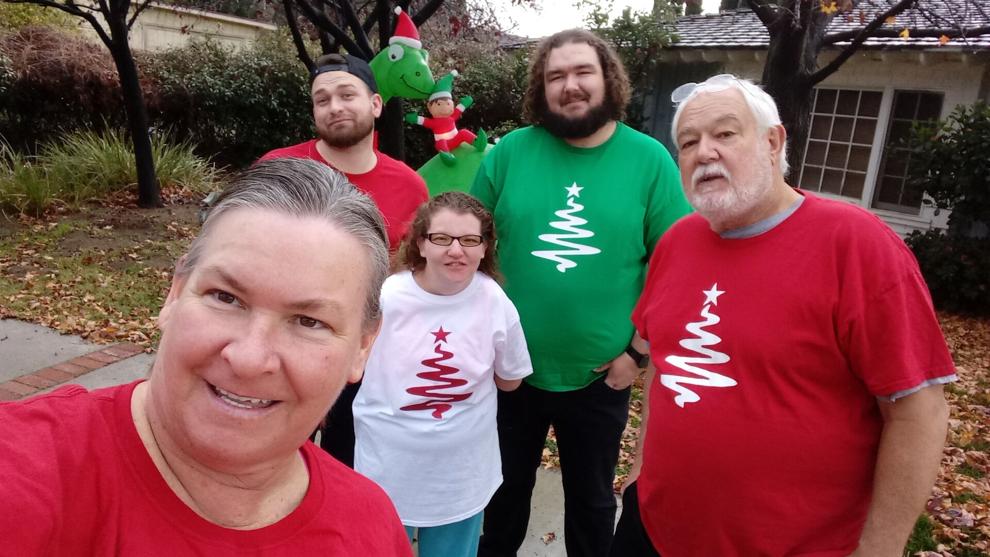 BY DAVID JAMES HEISS
Record Gazette
DeAnn and Mike Dobbins are truly special people, who have unequivocally gone out of their way to bring opportunities to countless individuals with special needs here in the Pass area through their DeAnn's PAASS Kids program.
Few parents can match their copious energy and love, which all sprung from ensuring that their daughter Samantha had as many opportunities as other kids do when it comes to finding something to do.
Sitting in their modest Cherry Valley living room, accompanied by a few dogs, a cat, a couple of snakes, and Samantha, a non-verbal 26 year-old with ring chromosome 13 deletion who was born without opposable thumbs, Mike and DeAnn try to explain all that they do within the confines of an hour.
Samantha is engrossed in an iPad program as DeAnn and Mike discuss their overwhelming efforts to make sure folks like Samantha have access to activities.
DeAnn's PAASS Kids, an acronym for DeAnn's Pass Area Activities Sports and Stuff is an organization for people with special needs that started in 2006 with the Dobbinses coordinating their first baseball game after having moved to the area from Montclair four years prior.
"There was nothing out here" for her to participate in, recalls DeAnn, who helps deliver newspapers for the Record Gazette and is finishing a career this year driving school buses for Banning Unified. "After a while, our boys were in soccer and doing activities, and then we'd have to drive to Montclair and Ontario" to make sure that Samantha, too, was involved in recreation.
Weekends could be tough, DeAnn remembers, as they would have to give up entire Saturdays to drive back and forth. Beaumont Youth Baseball welcomed the family's efforts to start a baseball program for those with special needs, and the Dobbins family was ecstatic.
"No one had ever approached them before" with such an idea, DeAnn says. "They requested a proposal, and we presented it to Beaumont Youth Baseball's board.
They started a Saturday baseball program, charging families $25 per eight to 10-week season (they eventually bumped it up to $45, since the Dobbins family was providing all the equipment and awards, on their own).
They were Saturdays of baseball, with two innings for anyone with special needs who wanted to participate, regardless of their age or ability.
There were four teams for baseball that initial year, and coordination was tricky: the Dobbinses discovered that "Some kids or parents waned" in their participation, and sometimes would show up, while on other days, they might not: two or three might show up from one team, or seven for another. Eventually, DeAnn's PAASS Kids just amalgamated the efforts into a single group, with a game at 10 a.m.: whoever showed up, got to play baseball.
"We would make sure that everyone who came would participate," DeAnn says.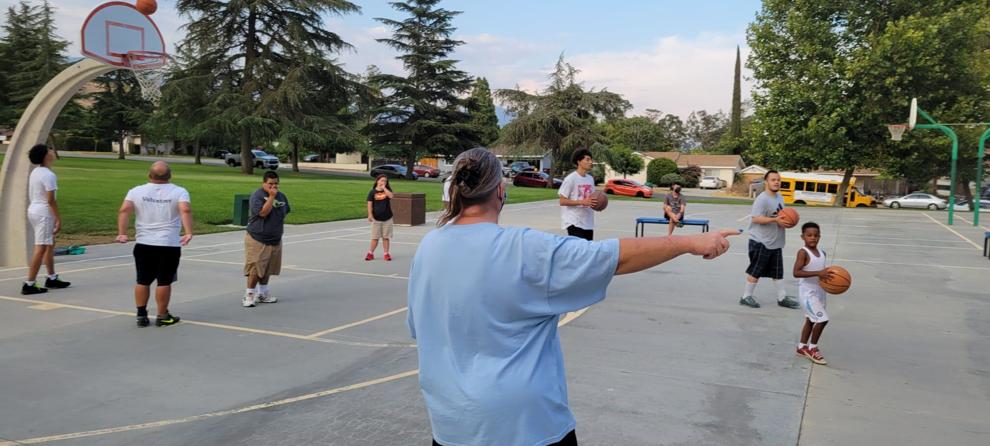 Banning, which the Dobbinses say initially rebuffed their offer to have a baseball program, offered them a spot a year later, after Banning switched from a Pony league to Little League, and coordinators Jim and Ann Price at the time invited the Dobbinses to replicate their efforts in Banning.
Weekends suddenly got busier: DeAnn's PAASS Kids would have their program for Beaumont in the morning; then pack up all the equipment and make sure there were just as enough snacks and drinks for their program in the afternoon in Beaumont.
"It had gotten to a point where 52 kids participated on four teams," DeAnn says. "We got a lot of donated equipment, and ice chests and handwashing stations, flags, banners — and we raised enough to pay for everyone to participate in a couple of games on adjacent fields" at Lions Park, home of the Challengers baseball teams, and at Noble Creek Park, home of the Beaumont Youth Stallions baseball and softball teams.
Expansion to other programs
Baseball is simply how it started.
Soon DeAnn's PAASS Kids launched their VIP Soccer program. They run eight to 10-week basketball programs. They added swimming programs at the Banning Community Center.
The organization, which after 10 years of being run solely by the Dobbins family, just got its nonprofit status a year ago, added arts and crafts nights, music nights, bowling leagues, fundraising events and parties, and began participating in parades.
Year-round, there practically is not a single day or night where the Dobbins family isn't out and about to make sure that there are activities of every kind to fit every personality and modality, and they do it without question or complaint.
In fact, they do it with an abundance of love, exuberance and excitement that never seems to exhaust.
"All this was started to keep her busy," Mike says, pointing at Samantha, who apparently absorbed the entire conversation and responded with an occasional "Yeah" or "no."
"Some days we'll start the day doing baseball in Beaumont, then baseball in Banning, and then end the day with soccer," DeAnn says cheerfully.
"But we have fun," Mike says.
A brief recap of a year: basketball starts up this month, usually from Jan. 22 through March 12 at the Banning Community Center (signups technically ended this week); spring baseball and spring AYSO will be at the Beaumont Sports Park, concluding just before Memorial Day; June through August morning swimming commences at the Banning municipal pool, and DeAnn's PAASS Kids will usually have a float in the Cherry Festival Parade.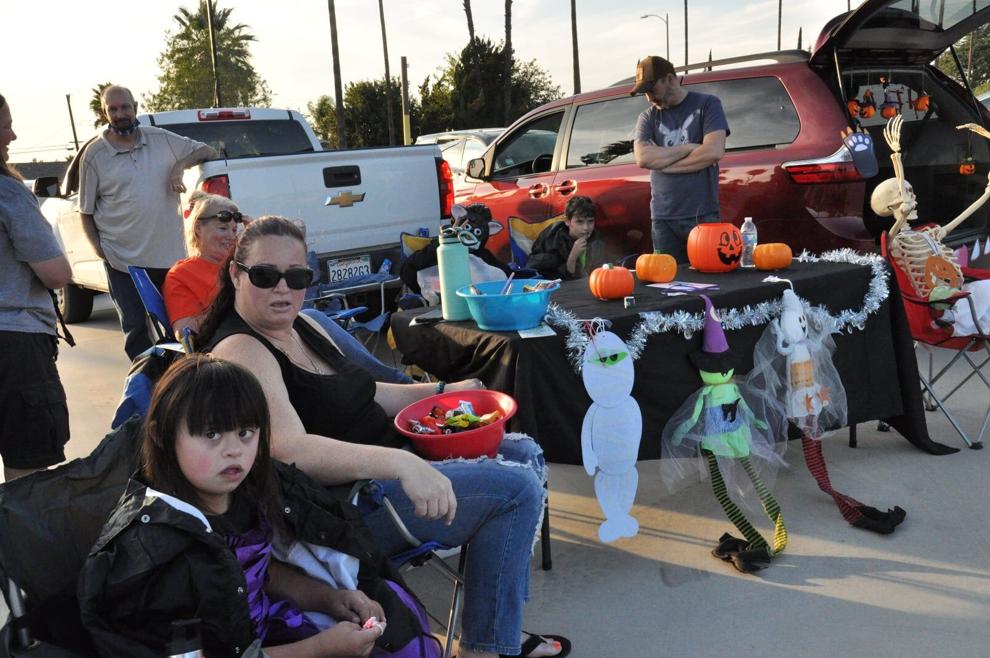 June through August there is bowling: Tuesday and Wednesday nights, and Tuesday mornings, until school starts.
Fall soccer begins near the end of August and concludes around Halloween.
September brings talent shows, and participation in the Stagecoach Days Parade.
October brings the Trunk or Treat. December there is usually a Christmas party.
At most of their events, Elijah DJ Beats Mode, run by an individual with special needs, provides the background music.
Russo's Italian Kitchen, the Beaumont-Cherry Valley Grange, have been locations for fundraising car washes and pancake breakfasts.
DeAnn's PAASS Kids flocks front yards, hosts bake sales, and conducts raffles. They throw pool parties.
"We give opportunities for people to learn about others," DeAnn says. "It's our little community, where people enjoy seeing each other, and sometimes some of them only see each other seasonally," since some families are only interested in baseball, or only have the means to do swimming, for instance. "And it's nice for parents, too. A lot of times parents can feel as if they're on their own" when it comes to providing opportunities for their special needs family members, DeAnn points out.
Doing a lot on their own
The Dobbinses take great care in planning for their programs and events, and are stubborn when it comes to others trying to make suggestions and recommendations of what might improve DeAnn's PAASS Kids's programs.
"We have a focus of what works that keeps kids safe," Mike insists. "Our minds are on the whole picture," not just what might be helpful that could include another person with specific needs.
"The goal," DeAnn adds "is to keep them busy with a variety of activities."
Mike continues, "They all have their own little cute personalities and preferences. Maybe only three show up to do this, or 70 will show up to do that."
Regardless of the effort — or the energy exerted to make things happen — DeAnn's PAASS Kids strives to provide those opportunities.
At the moment, their board of directors consists of just Mike and DeAnn Dobbins.
They have done things just fine on their own for so long: if they choose to grow their board, they will have to rely on individuals they have worked with for a long time who they trust understand their intentions and mission.
A Pass area-wide impact
Linda Smith of Beaumont, a retired teacher and member of the local Soroptimist Club, helped collect dozens of stuffed animals for DeAnn's PAASS Kids.
"When they started up, all they were doing was baseball at Noble Creek, and my son who is a Beaumont High School alumnus" (Steve Smith, Class of 1967) "never got to be a part of a program like that," she recalls, but he later was invited to play baseball with the DeAnn's PAASS Kids program.
Linda's husband's name graces the Don Smith Stadium at the high school.
Smith credits DeAnn and Mike Dobbins for creating an environment where "There's something for everybody, and they build our connections as parents. A lot of younger parents feel alone, and this is sort of a support group," Smith says. "It's the best thing that's happened. It's so inclusive and gives everybody something to look forward to all year long."
Smith says she helps with fundraisers, though admits "Nobody puts as much in it as the Dobbinses do, for sure. Steve and I ran a crafts table for the Christmas party, and one of the crafts tables at their Trunk or Treat. Every kid got a stuffed animal, whether they were disabled or not" that showed up.
And Steve plays a big part, too.
"He's become a permanent pitcher and coach of sorts," Smith explains. "When little kids hit the ball and are not sure what to do next, he'll lead them by the hand to the base."
She is amazed at what the Dobbins family does: "Baseball in March, April, May — three hours in Beaumont, then run down to Banning to do it there, and it can be really hot" on some of those days. "They just keep on going. They're like the Energizer bunny."
Doreen Reynolds, a paraeducator for the Banning school district, met DeAnn when she was volunteering with Little League and the Challenger division for special needs kids, and Reynolds started working with medically fragile kids, accompanying DeAnn when she drove her buses for students with special needs.
"It's always been in my heart to work with them," Reynolds says. "Anytime we can drive, my family have all done volunteering with her (DeAnn) at some point, and we've volunteered our home for the Easter egg hunt tours, and helped on bowling days. DeAnn's family did this out of their own pocket and their own time. When I see someone doing that much for the kids and the community of kids with special needs, I have to get involved. I could see she needed help. Without them, these kids would have nothing to look forward to: her Christmas parties, her bowling events, her music nights, her dances. She pretty much had a full schedule every night, from music nights at the Roosevelt Williams community center, where she would bring things they could shake or bang; and art nights — and never charged those families for anything these kids did. She and her husband would coach these basketball and baseball teams, and they were really being stretched, going between Banning and Beaumont leagues every day. They just did this out of the kindness of their hearts, with no help. They are bundles of energy, on top of her regular job, where she goes above and beyond as a bus driver of special needs kids to get where they need to go. I'm just so supportive of them, because there is a need for these kids to have a sense of normalcy."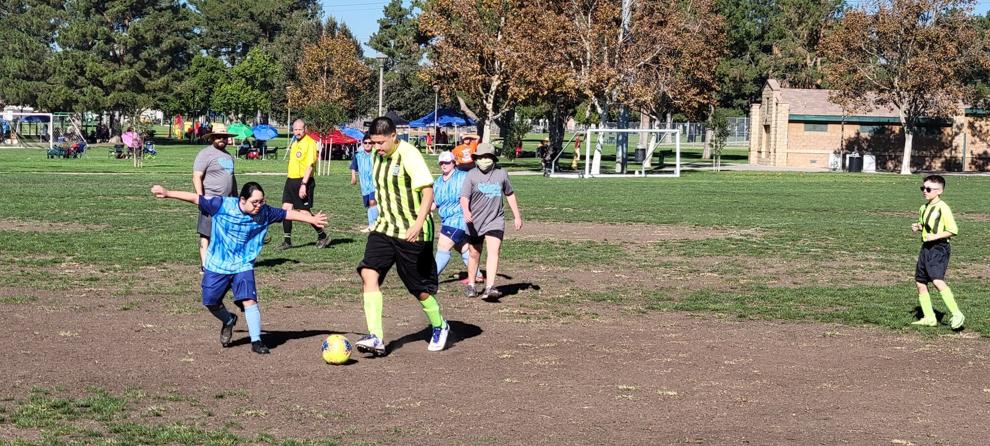 Sarah Rice of Beaumont, a special education teacher in Beaumont, was once invited to a baseball game for one of her students, and has been involved with DeAnn's PAASS Kids ever since.
"She has drives for fundraisers for her kids, and for the homeless" as well. "It's kind of nice to see my kids outside the classroom."
Rice went into the field of special education, inspired by an uncle who had special needs.
"I try to get my kids involved, so they're aware," says Rice, who has aided in prepping for parades, assisted with their Trunk or Treat events, and helped with the Christmas parties and pool parties, lending a hand with setups and cleanup, running crafts tables and passing out candy.
"One of the biggest things" that impresses Rice is "they do all of this while DeAnn has a full-time job, and they did so much on their own out of the love for their daughter and the community. They give an outlet for those who wouldn't normally have it, and strive for inclusivity — not just for little kids, but all of their families are included, and there's no specific reason or disability to join their programs."
Antoinette Johnson, a retired accountant from Banning, met DeAnn through working together in the Banning school district's transit program. "Even as a bus driver, she was very attentive and concerned and nurturing for my daughter's well-being," Johnson says.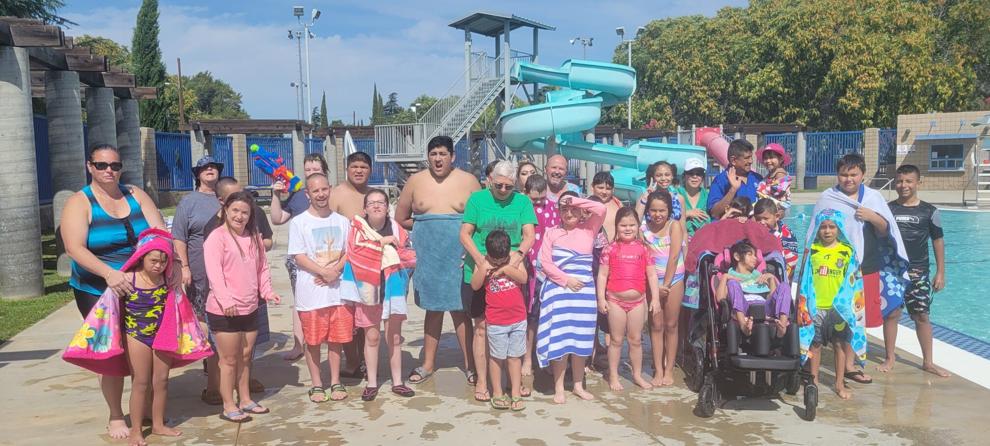 Johnson received a flyer for a baseball program tailored to special needs kids, and got her daughter involved.
"She always loved the environment, and I made friends from being involved with other parents," Johnson says.
And it was relatively affordable: according to Johnson, she paid $40 to have her daughter involved in some programs that lasted several weeks, between baseball, soccer, and swimming on Fridays.
"I like DeAnn as an event planner and an organizer," Johnson says. "She's very attentive, and she started up a support group for special needs parents like me. What amazes me, and impresses me, is she never gives up or gets tired of her kids and the parents, and always shows up 100 percent-energized, and is always happy, which shows she cares and loves what she does in a very good way. I love it when I come across any other parent who hasn't heard of it, and I refer them. It's so engaging in a loving and safe environment. All special needs people should benefit from it. She really loves our children, and you can see it in the way she does things. The quality is never half-done, and she's always very excited about what she's done, and gives them top-shelf activities that are well thought out, with a lot of love put into it."
Lynn Brousseau of Beaumont, who was a special needs teacher who retired from the Beaumont school district after 35 years in the profession, has five adopted (now grown) kids with special needs: Cameron, 31, Alexander, 29, Stephen, 28, Shailah, 27 and Hope, 23. She also has three of her own children.
"I am blessed by them more so than they are blessed by me," Brousseau insists.
When she moved her family from Menifee, which had an active Special Olympics program, she struggled at first to find something for her adopted children to do.
"DeAnn was doing baseball at the time, so we started with baseball," Brousseau recalls. "It was wonderful. I love the fact that in her program everyone played, everybody won, everybody was rewarded, which is a little different from Special Olympics. As DeAnn grew, we grew. Now we play every sport that she does, and as she grew she added more things," outlining the Christmas parties, summer parties, family get-togethers, and music and arts and crafts activities.
"If you don't want to sit around your house, call DeAnn. She and Mike don't ever stop."
Daughter Shailah Brousseau, who has Down syndrome, competed in the 2011 Special Olympics World Summer Games in Athens.
She naturally came to "Love DeAnn's PAASS Kids. It's a really fun event that I love doing. I think they've changed my life, because they do all sorts of fun things" Shailah says. "I really enjoy the sports, because they do a lot of sports, like, we do soccer and basketball, and bocci ball, and they do swimming, too. And baseball."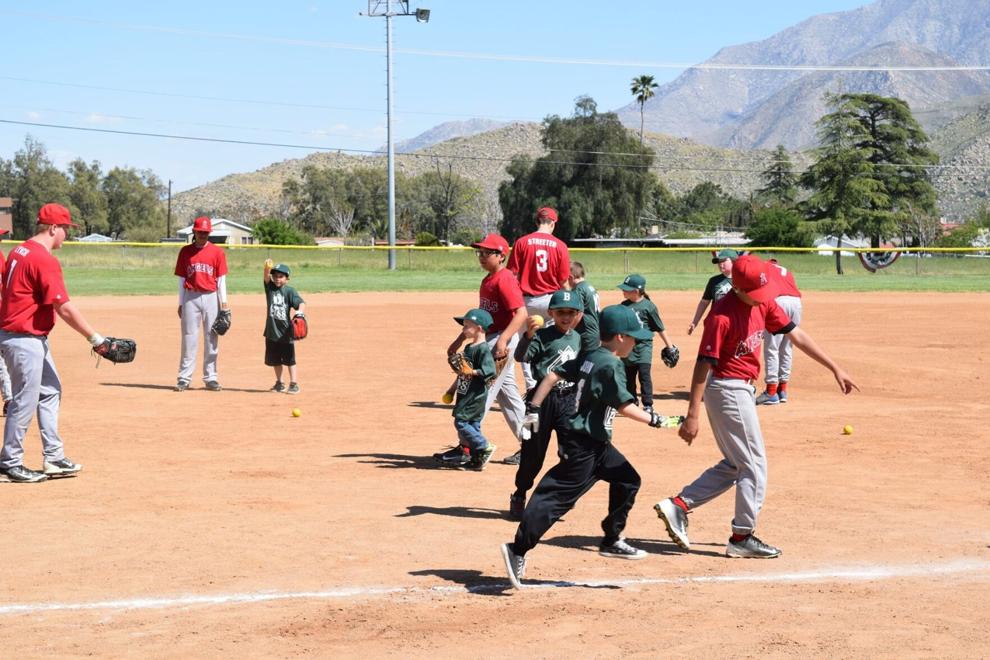 In Shailah's opinion, which she is always excited to share, "The one I'm best at is bowling. Sometimes I get four or five strikes. It's actually my favorite kind of sport I love to do," and claims to have recently acquired a new bowling ball and shoes over Christmas.
"Mike and DeAnn are awesome," Shailah says. "They're incredible. I love doing sports with them, and being able to see all my new friends. They do an awesome job for us to do all sorts of sports and stuff that we love."
Future plans
DeAnn's PAASS Kids may not sound like they already have enough to do, but according to Mike and DeAnn Dobbins, they're working on special movie screenings at the 2nd Street Cinema in Beaumont that could involve sensory screenings (where, perhaps, sound may not be played as loud for a particular movie).
They have ideas for bike races in school parking lots.
They're scheming events such as a Mega Park Play day, with visitations to area parks where DeAnn's PAASS Kids might bring baskets of water balloons and squirt guns, and portable slip and slides.
Just before Christmas, DeAnn was finishing up making her personalized "cocoa bombs," varying types of chocolate and white chocolate balls filled with marshmallows and hot chocolate powder mix, peppermint flakes and other ingredients that are dropped in to hot water and melt into the concoction that she deems "cocoa bombs."
She gives some away, she sells some as a fundraiser. And she handmakes dozens and dozens, spread out and individually wrapped in clear plastic with ribbons all over their kitchen counters.
Their hallway is stacked with toys and clothes and things that are given away at so many of their events.
They have already filled up one storage container, and seeking space to house more equipment and items related to their nascent nonprofit.