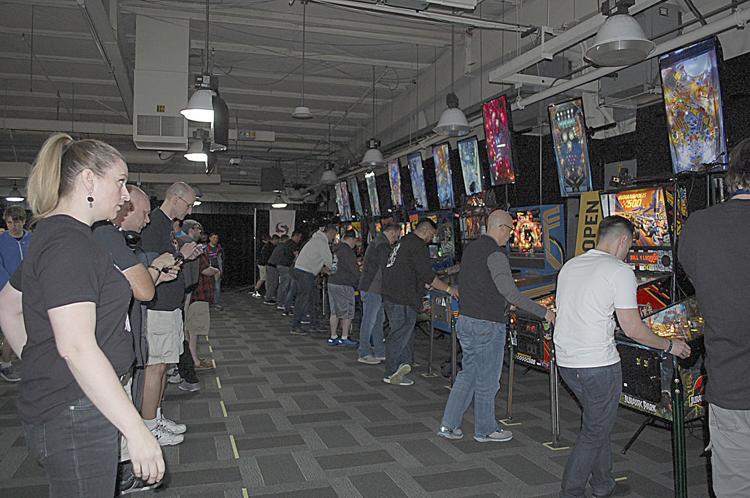 The top scorers in the It Never Drains In Southern California (INDISC) tournament at Banning's Museum of Pinball were among more than 700 visitors in the city last weekend.
There were a few tournaments, and just as many divisions, happening each day for competition that started Thursday and concluded Sunday, and while most of the winners were from the United States and Canada, 17 year-old Danielle Peck of New Zealand cracked the top 30 in the main tournament, following Bart Volman, 34, of the Netherlands who was 29th.
The event attracted 29 year-old Keri Wing of Overland Park, Kansas, a past champion who took second place in the Women's Division in Banning.
That was after capturing the Women's World Pinball Championship title last March in Las Vegas.
Wing uses her master's degree in saxophone to teach music lessons, and also works in a pinball store.
As she kept a multiball play going in a game called "Cactus Canyon," she earned a replay, though when her game was officially over, she had to step aside to let the next contestant play.
For Wing, competition last weekend had "been a hit or miss," she said. "You have to have five good games in a row. It's complicated" explaining how the rankings work, she said. With a few hours to go early Saturday evening, "I have until midnight to qualify" and win a set to be a top scorer in the A Division.
Augustus Eustis, 39, of Somerville, Mass. was doing his best to retain a spot in the B Division.
"My friend and I are turning 40, and decided to celebrate by making a trip out of it," Eustis said. "The outside top 250 qualify for the B finals," and claimed early Saturday evening to have been at the time 11th in the division.
He did not have a preference of which games he played, but seemed to gravitate between five in particular, including "Black Knight: Swords of Rage" and "Jurassic Park."
"I'm having a blast," Eustis said. "It's a lot of time on my feet. My knees are sore, but I'm enjoying it."
Texas Christian University student Everest Merki, 19, of Denton, Texas has been an aficionado for as long as she can remember.
"My dad's been collecting pinball games since I was a baby. We've got 40 pinball machines in our garage," she said. "I started competing last March, and traveled all over Texas to compete."
Banning's INDISC was her first venture to compete outside of Texas.
"It's a very big one" for her first interstate competition, she said.
She expressed slight irritability over two tournaments overlapping and causing players to feel compelled to finish up their games in order for other competitors from another competition to step in, but the tournaments themselves "have been really great: the Texas pinball tournament was in a packed room with hour-long queues. This is really organized" by comparison.
Raymond Ashby, 39, an office manager from Los Angeles was among the top 50 in the main tournament, finishing 46th.
"I came here four years ago to the Pinball Expo" and discovered the joy of pinball, Ashby said.
He was striving to get into the A division, but was anticipating having to settle for B.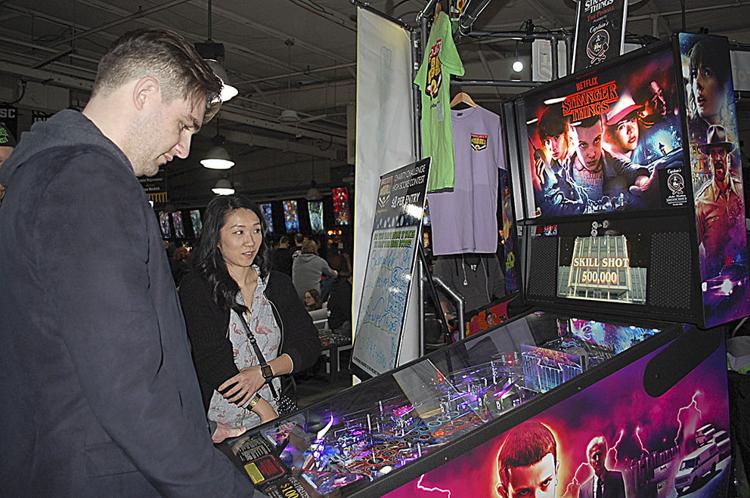 Among the competitions was a fundraiser for Project Pinball Charity, which places pinball machines in children's hospitals and Ronald McDonald Houses for recreational therapy.
Two pinball games at the event — "Stranger Things" and "Batman" — were giving players the opportunity to have fun for $2 per game, and through Saturday had raised more than $400 for the program.
Results from the tournaments last weekend may be viewed online at www.ifpapinball.com .
Staff Writer David James Heiss may be reached at dheiss@recordgazette.net , or by calling (951) 849-4586 x114.