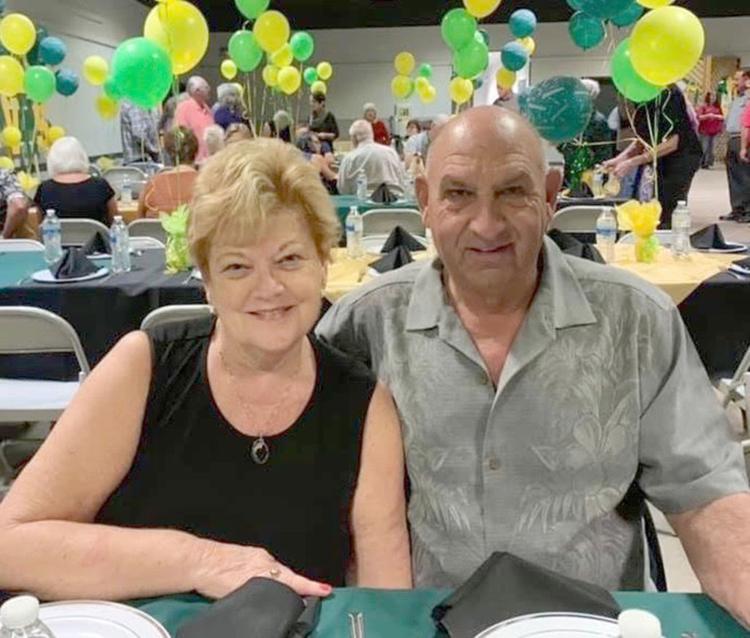 Last week we teased part of the article on upcoming Citizens of the Year honorees Jim and Linda Andersen. Here is the full story.
Jim and Linda Andersen have spent the last 35 years nurturing Cherry Valley Nursery into a business that not only meets the gardening needs of its customers, but also provides a sense of family within its community.
The Andersens, who have been married 52 years, work long hours at the nursery and still find time to help out the citizens of Cherry Valley and Beaumont with community and civic organizations such as Veterans of Foreign Wars, Kiwanis and the Cherry Festival Association.
The couple will be honored Thursday, Jan. 30 as the Beaumont Chamber of Commerce's Citizens of the Year at the annual installation dinner at Four Seasons Lodge in Beaumont.
Lynn Bogh Baldi nominated the couple.
She wrote: "Both Jim and Linda have a passion for "doing things right" and have built this business over the last 36 years to the regional landscaping and nursery company it is today.
Along with building a successful business, they both are always willing and able to help anyone who needs it. Going above and beyond for not only people they know, but doing community service for school districts, special community events, and are very generous with community donations.
Baldi continued, "Linda and Jim have aided many employees secure homes, autos and with their children's educations."
The couple lives in Cherry Valley, but met in ninth-grade in Anaheim and married when they were 19.
Jim Andersen was born in Lynwood to Garland and Rosemary Andersen and has three siblings: Karen, Mary Lou, and Gary.
Jim graduated from Western High School and then found work as a carpenter until he was drafted in the military in 1969.
The couple had married in 1967 in Las Vegas.
Jim Andersen joined the Navy Seabees and was in Vietnam for nine months. He returned for six months, then was sent to the Philippines for nine months and was discharged in 1971.
After he was discharged, Jim worked as a carpenter and got his contractors license.
Linda worked in clerical at Farmer's Insurance for five years and then was a waitress at Knott's Berry Farm at the world-famous chicken restaurant, alongside Mrs. Knotts.
Their daughters, Tammy and Donna, were born in 1972 and 1974, respectively.
The couple moved to Cherry Valley in 1973. Jim got a job framing a clubhouse for a mobile home park. At the time, he worked on several mobile home parks in Desert Hot Springs and Indio.
The nursery came to fruition when they found the property on Cherry Valley Boulevard. There was a total of nine acres; 4.3 acres became the nursery. They also have a house on the property.
"Brookside was a gravel road when I moved here," Jim Andersen said.
The couple say that Cherry Valley Boulevard looks the same as it did when they moved here more than four decades ago.
As for starting a nursery business, Andersen said there were none at the time in Beaumont.
Andersen said that he loved agriculture and wanted to open a nursery.
"I didn't know anything about the nursery business. Zero," said Jim Andersen.
They put in an orchard on the property and bought their flowers, plants and supplies from retailers.
Today, seven acres of the property is used as the nursery. They have 23 employees, including their daughters, who were 10 and 12 when they started working at the nursery, Linda said.
The Andersens built the building that houses the retail portion of the business. Jim Andersen had to continue working in construction to pay for the nursery.
The recession hit hard in 2007-2008, with business falling 50 percent.
The challenge for the Andersens was getting customers to the nursery when they originally opened.
"There was no traffic out here," Jim said.
So, he advertised in the phone book's Yellow Pages for many years, until he recently cancelled those ads, wondering if people still look at them.
The business has grown so much that there are always customers and the owners and the employees know many by name.
Cherry Valley Nursery also relies on newsletters, Facebook and Instagram to get the word out about what's available at the nursery.
The couple said that they have customers who travel from Utah, Arizona and Las Vegas.
But the nursery business is not the same.
Andersen said that there are only three nurseries, including theirs that are still open in the Pass area.
He started counting on his fingers how many nurseries are still open along Interstate 10, from the desert out toward Ontario. Jim Andersen estimates there are only 12 nurseries left out of the original 30.
One of the unique products they sell at Cherry Valley Nursery is the ready-to-use mushroom compost. Their Christmas trees are potted plants from Oregon.
There are a variety of reasons for nurseries going out of business, he said. Properties are too expensive and so is the price of water.
But the Andersens find ways of keeping their loyal customers. Discounts are given to the Boy Scouts and Girl Scouts, as well as donations to the Beaumont Chamber of Commerce, Habitat for Humanity, garden clubs and their church in Calimesa.
They also have provided Christmas trees to those in need.
Being a part of their community has been very important to the Andersens. Jim served on the Beaumont school board for two years and on the San Gorgonio Pass Water Agency for four years.
They sponsor the VFW Post No. 322 golf tournament, provide donations for Cherries Jubilee, and sponsor fishing derbies for the Beaumont-Cherry Valley Recreation and Park District.
The Andersens are not ready to retire just yet —maybe in a couple of years, but not now.
They want to keep the business in the family and daughters Donna Andersen Kniss and Tammy Andersen will take over the nursery.
Baldi concluded her letter with some more insight into the couple's generosity. "I asked Jim to help me with a project at Pass Resource Center a few years ago, and he went beyond helping me himself, but also asked his suppliers and sub-contractors to see what they could do for this Green House project for the Pass Resource Center clients and staff.
"His contributions made a huge difference in seeing some patches of dirt become beautiful, green gardens and trees for the clients to not only enjoy, but be able to maintain and work on."
"Linda's generosity to those in need is the silent type. If she finds out about a family or someone who needs food or clothing or help, she is there. They are two of the most generous people I've ever met."
Staff writer Julie Farren may be reached at jfarren@recordgazette.net.