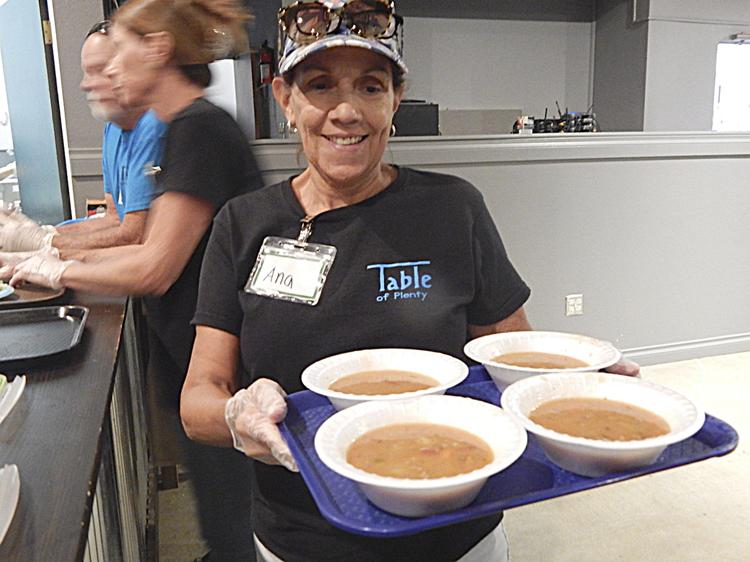 Table of Plenty has moved its second location from the Beaumont Woman's Club to Hope Unlimited I.E.
Church on Beaumont Avenue to continue its mission of providing 4,500 meals to the hungry in the San Gorgonio Pass.
The non-profit organization still serves hot meals at First Presbyterian Church, 702 Euclid Ave. in Beaumont from 11:30 a.m. to 1 p.m. Wednesdays.
At Hope Unlimited Church, located at 1252 Beaumont Ave., meals are served from 11:30 a.m. to 1 p.m. Tuesdays.
Table of Plenty president Darryl Smith and Hope Unlimited outreach pastor Wendell Crawford said that Table of Plenty and Hope Unlimited united in its mission in January 2019.
Table of Plenty volunteer Terry Dabbs attended Hope Unlimited Church in Banning and talked to Pastor Ken Spicer about Table of Plenty operating a kitchen at the Beaumont church site.
"This is part of the mission, to help the low income, so we were a good fit," Smith said.
Dabbs, who has known Smith for 40 years, said he is proud of facilitating the connection.
"As a new member of the church, God sent me over here for a reason," Dabbs said.
Crawford said finding enough food to eat is hard in this country.
"They don't know where their next meal is going to come from," Crawford said.
Hope Unlimited has four churches in the United States – Banning/Beaumont, Los Angeles, Nashville and New Mexico, Crawford said.
The church was formerly New Creation Church.
Hope Unlimited started in the San Gorgonio Pass in early 2019.
Crawford has been a member of both churches for 13 years.
Smith joined Table of Plenty in 2011 and became president in 2015.
Table of Plenty has 60 volunteers serving both locations.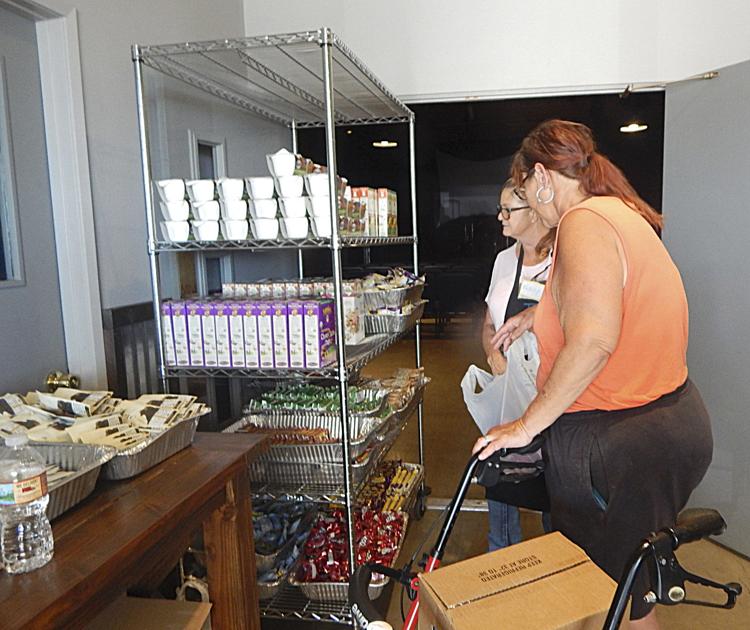 On a recent Tuesday, there were 20 volunteers working hard at the new site to prepare a meal for the homeless and hungry.
Smith said that 60 percent of the guests are senior citizens, 10 percent are homeless and 30 percent are low-income families.
Smith said that Table of Plenty relies on donations, charities and an annual golf tournament for resources to pay for the meals.
Chef Fili Duran plans the meals and on this Tuesday, guests were treated to a taco, homemade Mexican rice, salad and a bowl of beef stew soup.
The day begins when Smith and Dabbs drive over to Feeding America in Riverside at 6 a.m.
Tuesday mornings to pick up the food for the food pantry, which also is distributed to the guests as they leave the church.
Each guest gets three bags of groceries containing perishable and non-perishable items.
On Tuesday, there were fresh jalapenos, celery, tomatoes and boxes of food.
Smith said that operations at the church start at 8 a.m.
Volunteers prepare the food and serve it to the guests, who arrive at 11:30 a.m. when meals are first served.
Lunch ends at 1 p.m.
Smith said that 160 to 225 people are served each day.
Mayra Gomez brought her 2 ½ year old son, Jesus, for a meal while her three daughters were at school.
The single mom said that the two meals helped her a great deal in providing food for her family.
"For me, this is a huge blessing," Gomez said.
Another grateful recipient is an 80-year-old woman named Patricia, who did not want to use her last name because she is homeless and has been living in her car for two years around Beaumont.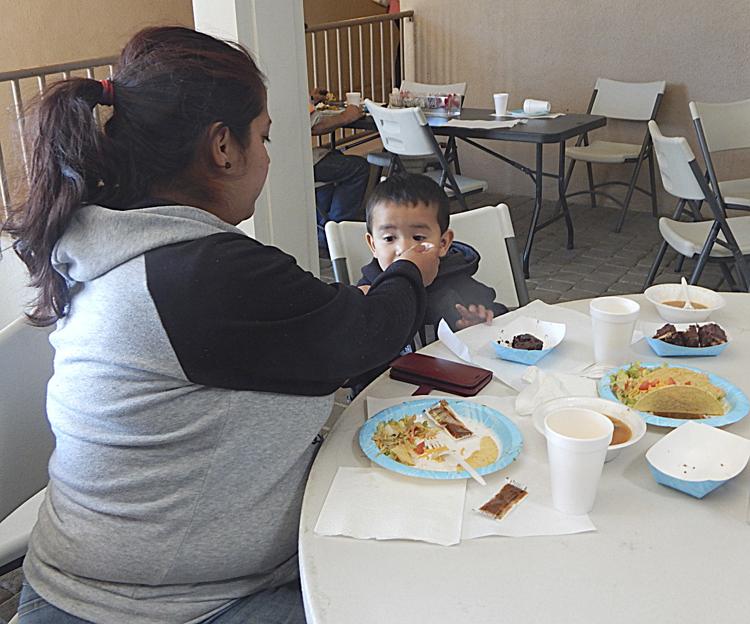 Not only does she eat at Table of Plenty, but at other non-profits such as Carol's Kitchen and Set Free Church in Calimesa.
She also created a list of non-profits, the days they are open and times they serve lunch and their locations.
Patricia also included a list of organizations and churches that provide free food and guests can take a free list with them.
Cynthia Navarro, of ARC. supervises three adults – Andy, Bobby and Reema – who help at Table of Plenty in different ways.
Andy greets customers, Bobby helps with the trash cans, and Reema delivers the desserts.
Smith said that three paid positions were eliminated from Table of Plenty and Feeding America charges 19 cents a pound for the food.
Smith said he personally interviews the volunteers for Table of Plenty.
One thing that makes him proud of the non-profit is the service they provide guests.
"We serve the plates of food to the table," Smith said. "It makes it a little bit more special for the people."
Staff writer Julie Farren may be reached at jfarren@recordgazette.net.