Banning believed in its heritage, and came out in droves to participate in the various events that made up this year's Banning Stagecoach Days.
Visitors came out from as far as Los Angeles and Orange counties to participate in the parade, which featured grand marshal, Georgia Craig. The Border Renegades continued their passionate Wild West gun shows. And dozens roped or lassoed their way around the pro rodeo circuit.
Stagecoach Days 2016
Photos by Tim Hilliard, Carl Booth, David James Heiss and Virginia Bradford
This year's All-around cowboy was Tyler Forsberg, who won $902 from his skilled tie-down roping and team roping.
"Stagecoach Days was amazing this year," said Amy Pippenger, the committee's chairwoman. "We had amazing attendance at Friday night's rodeo, and sold out Saturday night. We were told the freeway was backed up as people were trying to exit to get to the park, and we had to turn away a lot of people Saturday night."
Some visitors were checking out Stagecoach Days for the first time.
"We've never been here before. The kids wanted to go on the rides," said Crystal Jant and Hugo Delatorre, who have lived in Banning for three years. They took their sons, Adrian, 2, and Andrew, 5, to check out the rides, and they sampled deep-fried frog legs ("Disgusting," according to Jant), and stayed awhile for the rodeo Saturday evening.
Robin Kimball, of Banning, came to Stagecoach Days on Saturday with her 13-year-old son, Zack, who was enjoying a deep-fried Twix bar.
"I want to go on the rides," Zack said. "Probably the tall one — the Zipper."
They had been there earlier in the day, Mrs. Kimball said, "but it was too hot. We came back to check out the rodeo."
Cecilia Montez, of Beaumont, came with her daughter, Tatiana, who was looking forward to going on the umbrella ride.
"She got scared the first time she went on it, because it made some noise" that seemed unsettling for a toddler, Montez said. "We're definitely going to check out the rodeo."
Eileen and Cliff Daniel, of Banning, were no strangers to the event. They came to enjoy their fifth visit to Stagecoach Days.
"We're too old to ride the rides," Mrs. Daniel said. "We came for the food, and the beer. It's a good environment, good food, and lots of little side things," such as the vendors and activities booths. Mrs. Daniel sampled deep-fried frog legs, while Mr. Daniel gingerly gnawed away at what could have been a caveman's club — a massive barbecued turkey leg.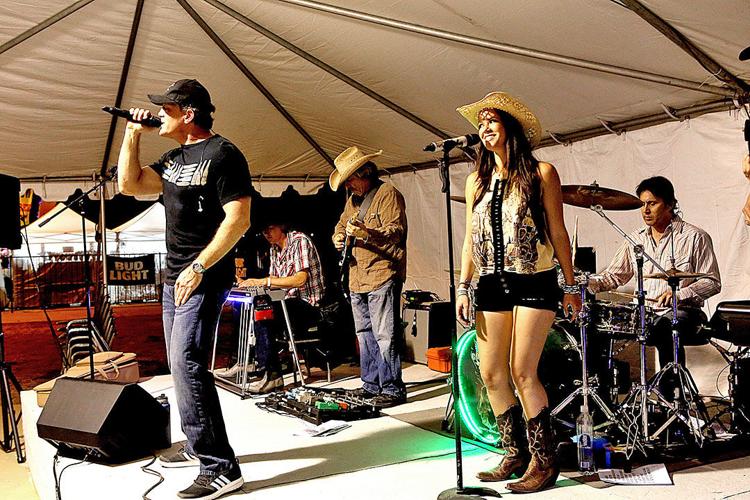 Throughout the weekend, the Border Renegades hosted Wild West gun shows, and an encampment competition.
The gun shows, which featured three of five teams competing, featured 10-minute vignettes and melodramas depicting scenarios from the 1800s that usually concluded with a showdown or shootout.
This year's Wild West Competition was won by the Deguello Gunslingers, of Yuma, Ariz., who won $500.
First place for authentic encampment, depicting Wild West camp settlements from the 19th century, went to Bad Byan's Bob, an 1800s traveling camp that won $250.
"It was our 10th year doing this, and we had a great turnout," said Stagecoach Days past chairman, Bill Lamb, who is a member of the Border Renegades. "Everyone enjoys the shows. The encampments were fun. We had a chuckwagon set up, and one tent was all layed out with antiques and beds" and period settings.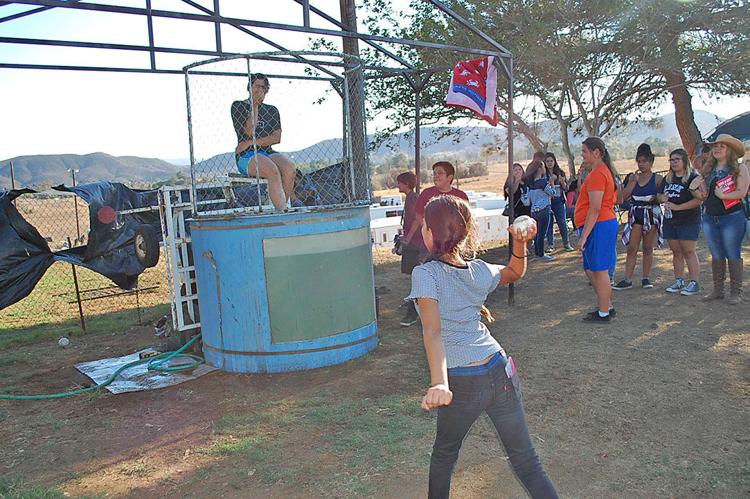 Stagecoach Days is an opportunity for local groups to fulfill community service hours.
Chris Yang and Evelyn Torres, representing Banning High School's Key Club, were among those helping perform clean-up.
When they weren't busy, Torres was "hoping to get on some of the rides," while Yang "will be checking out all the food booths."
Banning's senior class president who rode in the parade as the senior class's Homecoming prince, Isaac Arzate, and fellow Interact member Joseph Rivera, were among those helping clean up around the fairgrounds on Saturday.
Rivera was taking a break to sample deep-fried cheesecake; Arzate was looking forward to experiencing a ride on the Zipper.
"It's a great new experience for those who've never been here before," Arzate said.
Stagecoach Days director Pippenger wished to thank those who were involved in making the weekend happen.
"We couldn't have pulled this off without the extra volunteers that stepped up and helped," she said. "We thank everyone who participated, and came out to watch. Without you, Stagecoach Days cannot continue. Thank you for believing in Banning."
"Believe in Banning" was the theme for this year's Stagecoach Days.
Next year's Stagecoach Days event is slated for Sept. 8-10, 2017.
More photos from Stagecaoch Days on page 22.
Staff Writer David James Heiss may be reached at dheiss@recordgazette.net.