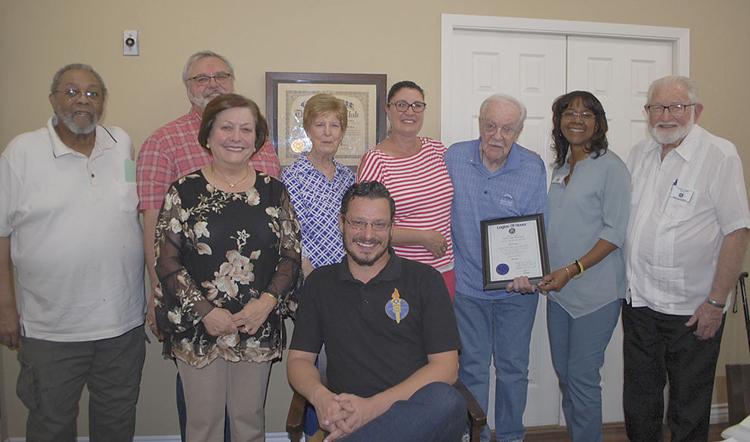 Steeped in longtime tradition, the Kiwanis Club of Banning toasted its latest slate of officers during their Nov. 6 lunchon at The Lakes Assisted Living.
They were sworn in by Kiwanis Lt. Gov. Miguel Sarasa of Hemet.
During lunch Stan Lewis, a member since Jan. 1, 1960, reminisced on past Kiwanis members including former Record Gazette owner Carl Barkow, who initially bought a 50 percent stake in the Banning Record in 1923 and by 1939 was the sole owner.
The Kiwanis Club of Banning got its start on April 15, 1925 with sponsorship by the Redlands club, with representatives from clubs from Riverside, San Bernardino, Colton and Hemet presiding over its initial meetings; Banning conducted its own meeting on June 12 of that year, collecting fines from members of 10 cents.
In 1925 at a Nov. 6 gala at the former San Gorgonio Inn, the Redlands club presented a specially made gavel to President-elect Barkow inscribed with its April 21, 1925 charter date.
Barkow was a past lieutenant governor of Kiwanis.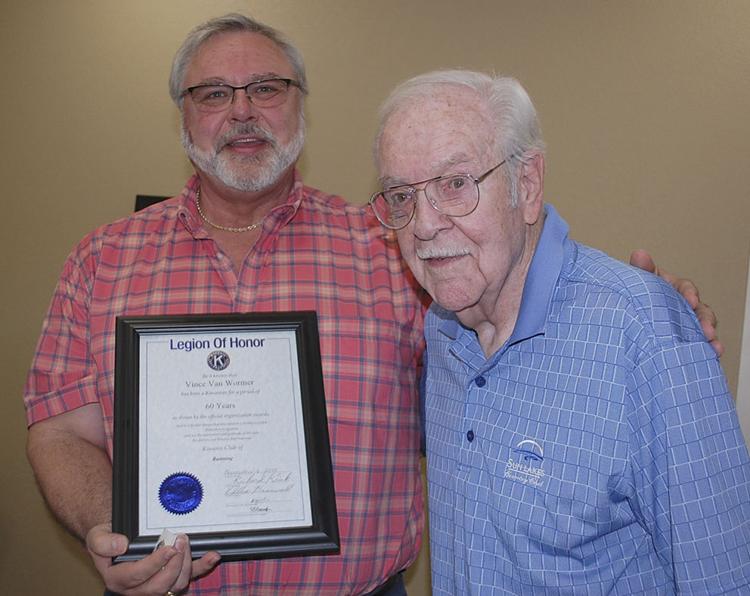 Over the years Kiwanis members have helped sponsor maintenance of Repplier Park, erected a picnic shelter at Sylvan Park, planted hundreds of trees around local schools, the hospital and along various causeways, sponsored Easter egg hunts, and for years sponsored the local Scouts BSA troop.
They also regularly sponsor the upcoming breakfast with Santa on Saturday, Dec. 7 at the Banning Community Center.
At last Wednesday's luncheon, Lt. Gov. Sarasa complimented the group for its growth, considering that, as a division, Kiwanis had seen a loss of more than 50 members.
He congratulated member Vince Van Wormer for being a 60-year member of Kiwanis, wishing him "Health, wealth and happiness," to which Van Wormer joked, "Well heck with the others, just skip to wealth."
President Richard Krick complimented his service, saying "It's hard to believe that 60 years can snap by."
Richard Krick, who has served as president for the past seven years, was reinstated to his position; Van Wormer was appointed as president-elect; Chuck Braswell, secretary; Dimitra Krick, treasurer; and board members are K Hodges, Debbie Franklin, Stan Lewis, Bob Rohrback and Pelton Teague.
Staff Writer David James Heiss may be reached at dheiss@recordgazette.net , or by calling (951) 849-4586 x114.