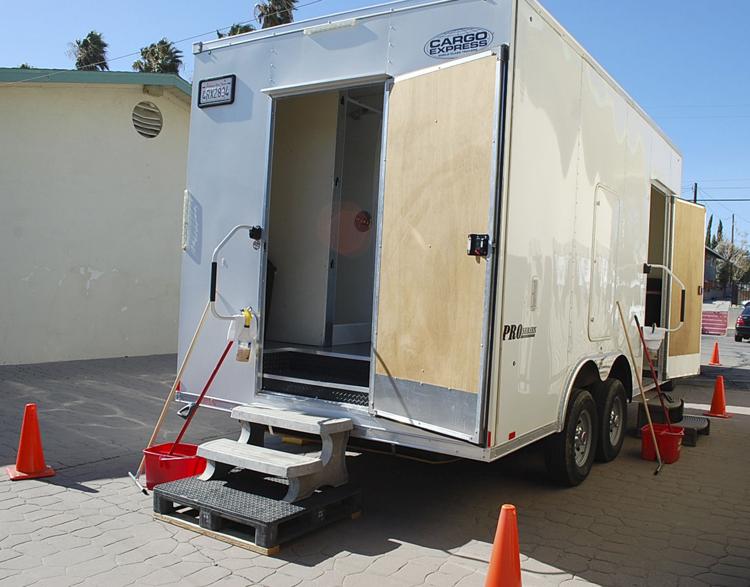 At least a couple times a week, those who do not have readily available access to showers can find respite when Healing Waters and volunteers from Freedom in Christ Church bring their mobile shower units to Banning and Beaumont as lunch is served by Carol's Kitchen at St. Kateri Tekakwitha Church.
Every Monday at 1234 Palm Ave. in Beaumont and every Tuesday at 157 W. Nicolet St. in Banning starting at 11 a.m., Healing Waters brings their mobile shower unit to the vicinity of where free meals are also being served.
About a dozen people usually take advantage of the free showers in Beaumont, while between a dozen to 20 will use the ones in Banning.
The city of Banning voted last month to waive water and sewer fees for the use of water by Healing Waters, an entity based in Colorado that partners with the sponsoring City of God Church out of Carson, Calif.
According to the city of Banning, Healing Waters uses about 1,000 gallons a week, and that total annual costs to the city are anticipated to be about $5,000 a year.
One recent Tuesday, several volunteers representing Freedom in Christ Church out of Beaumont patiently waited for visitors.
The mobile unit houses two separate bathrooms, immaculately clean with a single container of White Rain shampoo and a bottle of Gilette shaving cream ready to use, and a fresh towel and hand towel set out for the next person to use.
The units themselves do not appear to be heated or air conditioned, though when the power is turned on, it supplies hot water.
According to volunteers, visitors are limited to 10 minutes (women are given a couple extra minutes), with a knock on the door around five minutes to remind them of how much time they have left.
Healing Waters provides the cleaning supplies.
Volunteer Ron Espalin remarked, "It's just a wonderful experience, giving homeless folks an opportunity to be refreshed and feel good about themselves, and we can give them the message that the Lord oversees and provides, and offers fellowship" to his fellow volunteers.
"This is a great start, a great service to provide to people who normally wouldn't have access to getting themselves clean," Councilman David Happe said. "Nothing humanizes you more than a shower."
He motioned to approve the measure, seconded by Mayor Art Welch, and passed unanimously by the rest of the council.