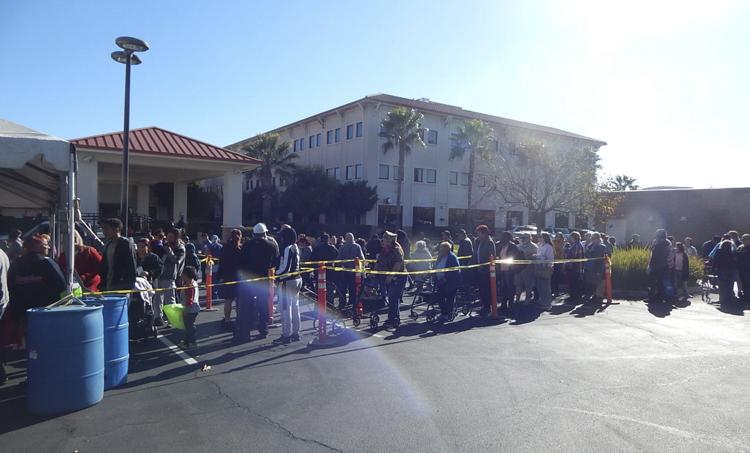 Zulema Rodriguez and her mother Victoria Segura waited in line the morning of Nov. 22 behind Highland Springs Medical Plaza to get bags of groceries in time for the Thanksgiving holiday.
The food-sharing event, sponsored by Side by Side Humanitarian and Loma Linda University Health System, handed out 650 vouchers through Banning, Beaumont and Calimesa chambers of commerce and through community members and government agencies.
People started lining up early in the morning behind Highland Springs Medical Plaza to walk through one of two identical lines, where volunteers filled their bags with a variety of food.
Last Friday the variety included donuts, Cheese Crunchies, barbecued flavored chips, corn tortillas, cans of black-eyed peas, cans of green beans, Prego spaghetti sauce, stuffing mix, Girl Scout cookies, candy canes, fresh vegetables, bread and buns.
Rodriguez, 26, and Segura, 55, were waiting in the long line with Rodriguez's children Yaretzi Meza, 2, and Zuriel Meza, 4.
Rodriguez said they have been coming to the food-sharing event for the past two years.
The groceries make a difference in their lives.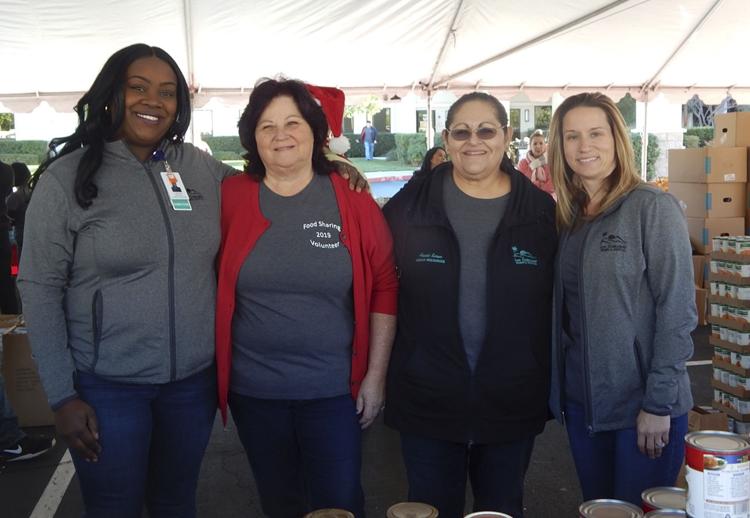 "My husband, Ramon, works," said Rodriguez. "I try to look for food to bring home."
This bag of groceries from Side by Side Humanitarian will feed their family for a week, Rodriguez said.
Looking at the line of people waiting and others who did not have a voucher but were asking for one, the need is still imperative in the San Gorgonio Pass.
Kevin Bowers, founder of Side by Side Humanitarian, started the food sharing event nine years ago.
Close to 100 volunteers make the time to either register the recipients, hand out food to put into the bags or transport the groceries in little red wagons to unpack in cars.
The food distribution event is housed under a huge tent behind the medical plaza.
Bowers said that this year, the set-up took place Thursday night and organized by Set Free Church in Yucaipa.
Although the event is supposed to open at 10 a.m., it usually gets underway a few minutes sooner because the parking lot gets full.
But once the line starts moving, it takes a few hours to get the food distributed.
Angela Brady, director of San Gorgonio Memorial Hospital's emergency department, was volunteering with Annah Karam, chief human resources officer, and LaKeisha Hawthorne, director of food and nutrition.
Karam, volunteering for the ninth year, said she loves helping others in the Pass community.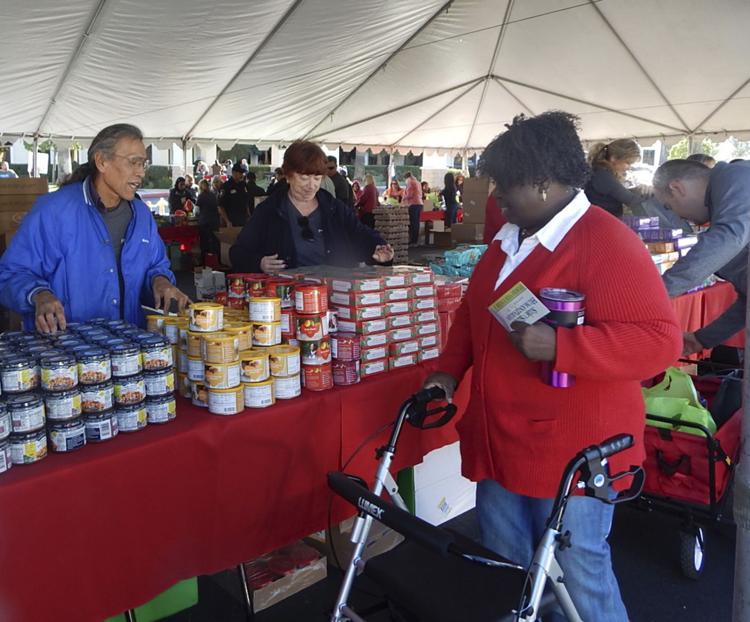 "It's my time to give back to the community," she said.
Hawthorne said she is grateful that the hospital and its employees can be a part of this event every year.
"We're blessed with these bags of food to distribute," she said.
A deaconness from Deeper Life Ministries in Beaumont, said this was her fourth year attending the food distribution event.
She said these groceries will take care of her grandchildren and great-grandchildren, along with 25 other families she provides for.
"I like feeding people," she said.
The center of the tent had volunteers waiting to replenish the cans and other food items that were being distributed so quickly.
There also were non-food items available including toothbrushes and toothpaste.
Marsa and Richard Rider of Banning have been married 60 years and rely on church food programs and other food program to assist their food budget.
Marsa said, "Our compliments to the food programs in harmony, working together so we have food programs every day. This keeps the holiday love all year long."
Staff writer Julie Farren may be reached at jfarren@recordgazette.net.