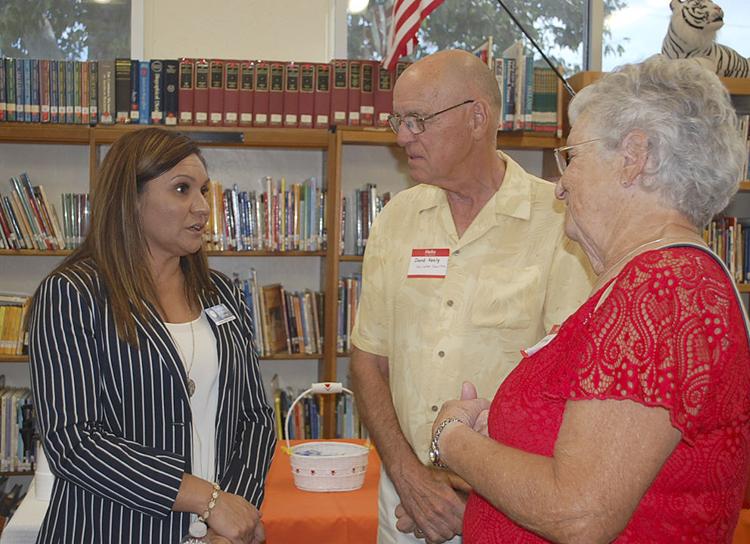 Nicolet Middle School's new principal Veronica Rodriguez is on a mission to change how the community perceives education.
That includes disrupting the norm, making the educational experience relevant and interesting, and insisting that one-size-fits-all educational procedures cannot be applied neatly into square boxes.
During a Sept. 25 reception for the community in the Nicolet library, she played excerpts of videos from a tattooed New Zealand educator Hamish Brewer, depicting assemblies that more resembled raves with flashing disco and laser lights than droll passive gatherings, who addresses his school communities as if he is a motivational speaker.
He even filmed a video clip with Rodriguez, giving a shout out to Banning.
Rodriguez idolizes the practices of such accomplished educators at Brewer, and has been inspired to implement some of the practices she sees as being worthy of attempting in Banning.
She is on the verge of transforming Nicolet into a panacea of literacy, with shelves along hallway walls of free books for children to take as they please; with displays of books faculty are reading outside their classrooms, and a staff development library in her office.
The school will have birthday book giveaways.
The enhanced Palomino Store will exchange merchandise for Palomino bucks, awarded for anything from students' initiative to pick up trash around them; or simply proving that someone earned an "A" — to earning a "positive office referral," in which parents receive calls as a proud principal calls them in the presence of their child to proclaim that young person's positive contributions or accomplishments at school.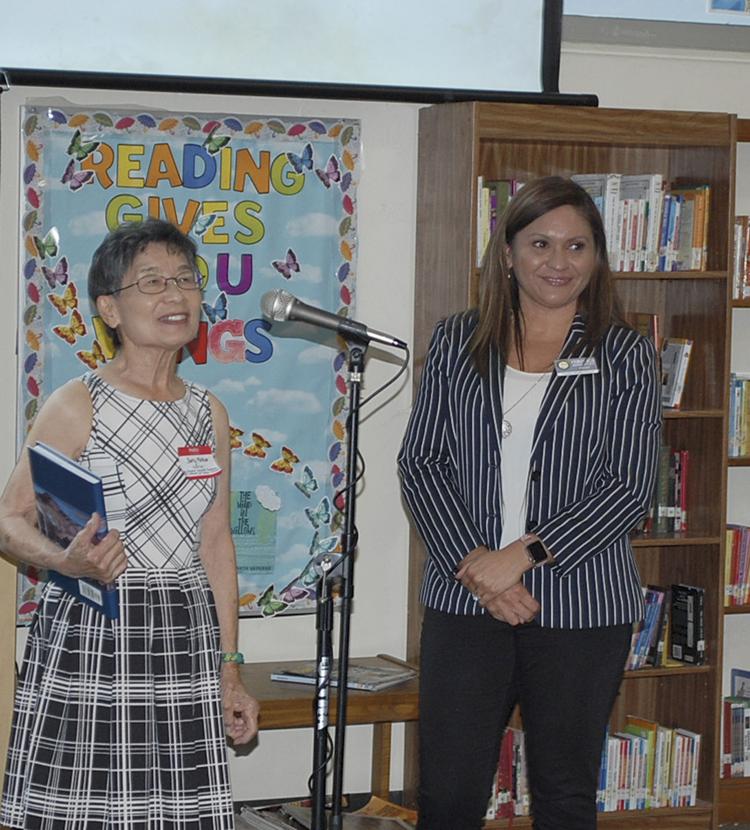 There are plenty of opportunities on Rodriguez's campus to experience Palomino pride, from Scholar of the Month breakfasts to participation in the upcoming staff versus student flag football game.
Some of it will take the form of exterior improvements, like the planting of flowers in the quad, and the painting of inspiring murals along blank walls.
Visitors to campus seemed invigorated by her ideas and energy.
Mayor Art Welch presented proclamations to Rodriguez on behalf of the city and Sen. Mike Morrell's office.
Rodriguez earned her bachelor of arts degree in liberal studies from California State University, San Bernardino; a master's degree and teaching credential in special education from Azusa Pacific University, and a preliminary administrative services credential from National University in San Diego.
Her career in education spans nearly 15 years, most of it spent in the Colton Unified School District as a former special day class teacher, resource specialist, assistant principal at Alice Birney Elementary School, and summer school principal at Colton Middle School.
Former Nicolet librarian Betty Meltzer (she was the librarian when Nicolet was formerly the high school) gave Rodriguez a copy of the book Meltzer co-authored with Louis Doody, "Losing Ground: The Displacement of San Gorgonio Pass Cahuilla People in the 19th Century."
Meltzer said in an interview, "She has very good enthusiasm. She's organized about what she wants to do."
Linda Page, who is a member of the Friends of the Library board, sensed that Rodriguez "is committed to kids, and her excitement comes through. She's dynamic, which is really exciting for kids."
Retired educator Gae Rusk noted that Rodriguez "thinks outside the normal way of addressing things, and sees things from every possible direction."
Former school board member Adolfo Mediano, who was not at the reception but met Rodriguez in his role as a member of Nicolet Middle School's site council, echoed what others felt: "She makes you want to be there in her presence."
So much so, that mayor Welch insisted to Rodriguez that she start a "class for seniors, and I don't mean seniors in high school."
Bea Smith, a language arts teacher at Nicolet, was one of the event's coordinators.
Smith calls Rodriguez "A relentless visionary who is stirring a renaissance."
Rodriguez told those in attendance last Wednesday, "Teachers need to feel valued, and students need opportunities to expand positive behavior. We need to pay attention to the emotional needs of our students and show them that we know who they are, and we care about them … It's about every decision being what's best for kids, and having fun."
Staff Writer David James Heiss may be reached at dheiss@recordgazette.net , or by calling (951) 849-4586 x114.