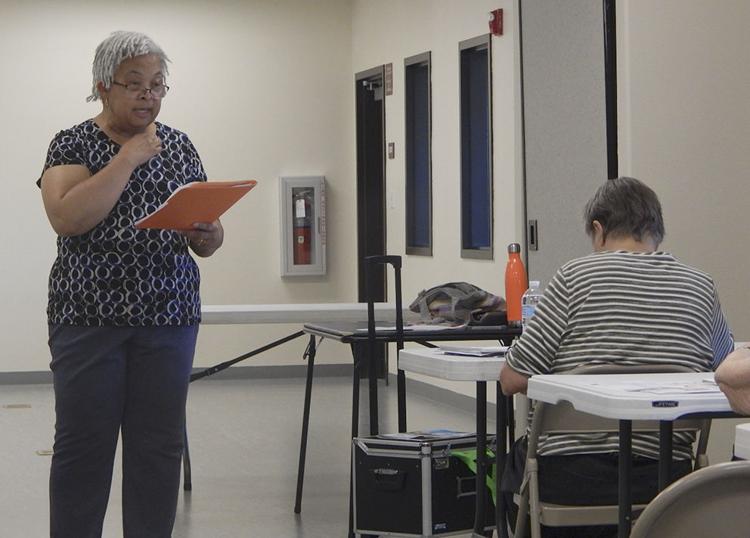 Diane Cunningham had a day to spare to take the driver's license test preparation class Tuesday morning at the Chatigny Center in Beaumont.
Cunningham, 75, was scheduled to take the DMV test on Wednesday at the Department of Motor Vehicles to renew her license. She thought she needed to brush up on her driving skills so she signed up for the class sponsored through the Beaumont Library District.
"I think the class helps," said Cunningham.
She was one of approximately 20 people who registered for the Tuesday morning class, held from 10: 30 to 11:30 a.m. the second and fourth Tuesday at the Chatigny Center.
Classes are also held from 10:30 to 11:30 a.m. the first and third Saturday at the Beaumont Library, 125 E. Eighth St.
The classes are taught by Lucy Sims, senior librarian for literacy services.
Sims has taught the class for 12 years.
Sims said the test Is not as difficult as people believe.
The number one thing that stresses people out is that they worry so much about going to take the test," she said.
"The more you worry, the more you talk yourself in to not passing the test."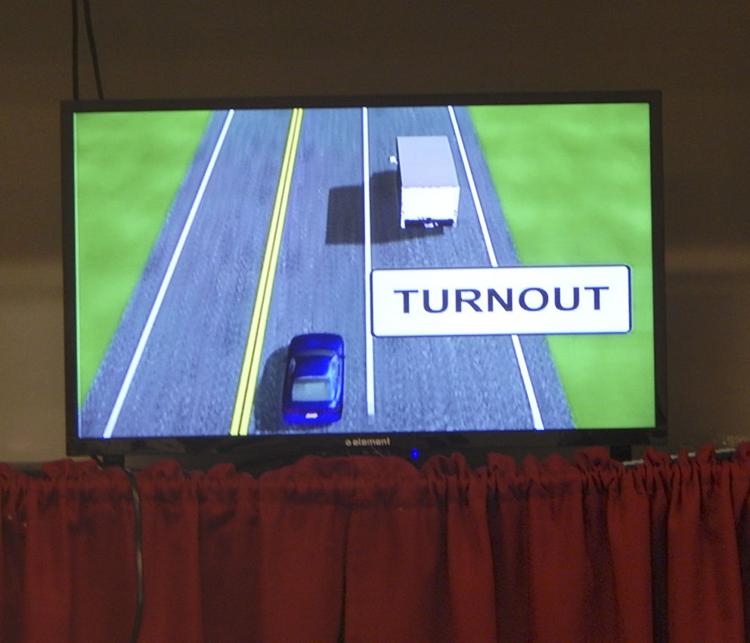 The one-hour class featured guest speaker Beaumont Police Officer Stephen Bronstrup, who talked about the DMV test. Bronstrup said that if you fail the first time, the DMV will give you a temporary extension. Then you have 30 to 60 days to re-schedule the test, Bronstrup said.
He also advised the drivers to avoid certain areas of Beaumont during the day because of traffic congestion. The schools in Beaumont get crowded early in the morning and in the afternoon, Bronstrup said. Avoid those areas from 7:30 to 9 a.m. and 1:50 to 3:05 p.m.
It's also best to stay away from Beaumont Avenue, Pennsylvania Avenue and Highland Springs Avenue.
Sims also said not to drive right in front of Stater Brothers or Walmart because of pedestrians stepping out into traffic.
"There's a lot of people who get hit by cars in parking lots," she said.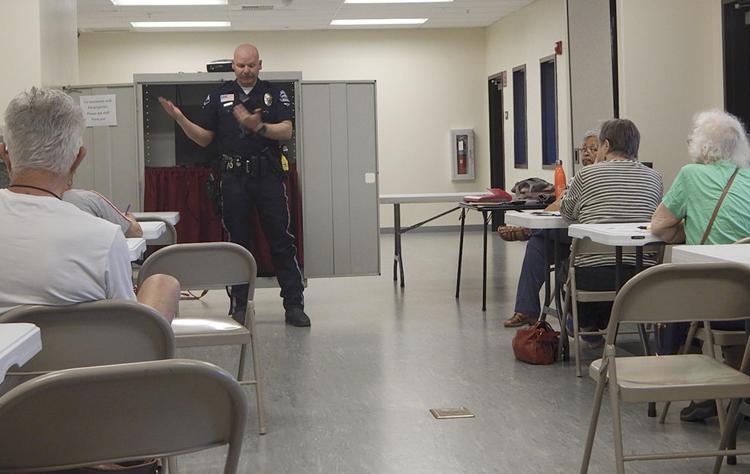 Bronstrup said that as cities grow, they also change their signage. It's important to pay attention to the signs. A lot of stop signs have been going up on Beaumont Avenue.
Sims also presents a video that features information for drivers about what to look for on the road. If you see two double yellow lines, do not cross over these lines. Two examples: one in front of Family Dollar, across from city hall in Beaumont, and one across from Chevron on Oak Valley Parkway.
Bronstrup said that If you cross over those lines, it is a $300 fine.
If there is a solid broken line, you can only pass in one direction.
In construction zones, traffic fines double because of highway workers.
When making a turn, use your signal, slow down, look over your right shoulder and turn when safe. Only make a U-turn when you have good visibility to see traffic. Pedestrians have the right-of-way.
As for parking signs, if it is white, that is for loading and unloading. If you are parking your car downhill, turn into the curb. If the car is parked uphill, turn the wheels away from the curb.
Sims gave the class 20 minutes to take the driving test. There were 36 questions on the long test. The other one has 18 questions. Sims said only three questions can be missed on the 18 question test to pass.
The legal limit for alcohol is .08. A red arrow on a traffic light means stop.
Sims said that the library has designed 13 different tests that are very similar to the DMV.
Patricia Campbell, 69, of Mentone, said she was taking the class because her birthday is next July and she wanted to prepare ahead of time.
She has had two five-year extensions and wanted to be up-to-date on all of the new laws.
Campbell said taking the DMV test is intimidating.
"I'm nervous about the short test because you're not allowed to miss too many," Campbell said. "I'm older so that plays a part."
Staff writer Julie Farren may be reached at jfarren@recordgazette.net.