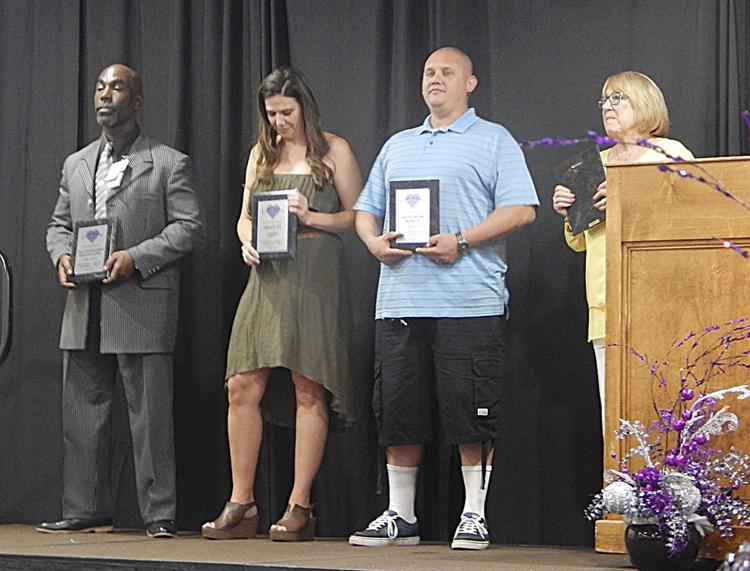 A night of comedy, good food and raising money to feed the hungry were the ingredients for a thrilling event last Saturday night during the Carol's Kitchen fundraiser in the Morongo Tukwet Canyon Clubhouse in Beaumont.
Approximately 145 people – more than anticipated – attended the event sponsored by the Morongo Band of Mission Indians.
"The whole reason for the evening was to honor our sponsors and to have a little fundraiser," said Ann Blair, chairperson for the dinner and comedy show.
Guests were treated to an elegant dinner, which started at 6 p.m.
At 7 p.m., emcee Bob Allbaugh presented the sponsors with plaques and shortly thereafter the comedy show began, featuring three local comedians: Richard Weiss, Mark Schumacher and headliner Ron Rhuman.
The fundraiser started at 5 p.m., with guests arriving and finding their tables, which were decorated with beautiful purple and silver centerpieces.
Complementing the stage were purple, silver and white balloons.
Shirley Schwertfeger was at the event with her boyfriend, Peter Gallant, and her sister Rosemary Dukic and her boyfriend, Tito Muela.
Schwertfeger, who lives in Calimesa, said friends who live in Four Seasons told her about the Carol's Kitchen event.
She decided to invite her sister, who lives in Indian Wells, to join her at the fundraiser.
"I would like to get more involved with the community," said Schwertfeger.
Muela was not familiar with the non-profit organization that served its first meal 21 years ago.
Jim and Arlene Ragan founded Carol's Kitchen in honor of their late daughter Carol, who was fatally struck by a drunk driver in 1996.
Carol was passionate about helping those who were less fortunate and the Ragans' decided to start Carol's Kitchen to continue her legacy.
Today, the non-profit serves 3,000 meals a month at six locations in Banning, Beaumont and Cabazon.
Carol's Kitchen does not receive any government funding and relies on donations and fundraisers to continue its mission of feeding the hungry in the San Gorgonio Pass.
Sponsors are an important part of the group's goal to raise enough money each year to provide meals in Banning, Beaumont and Cabazon.
This year's sponsors are: Blue Shield, El Mariachi, Epic Management (Beaver Medical), Terry Fears, Green Thumb, IEHP, Image Up, Inland Behavioral Health, Lithopass Printing, Molina Healthcare, Morongo Band of Mission Indians, Perricone Juices, Redlands Memorial Hospital, Robertson's Ready Mix, St. Stephen's Episcopal Church, Sun Lakes Charities, Top Line Industries and Wolverine.
Richard Weiss was the first comedian to take the stage.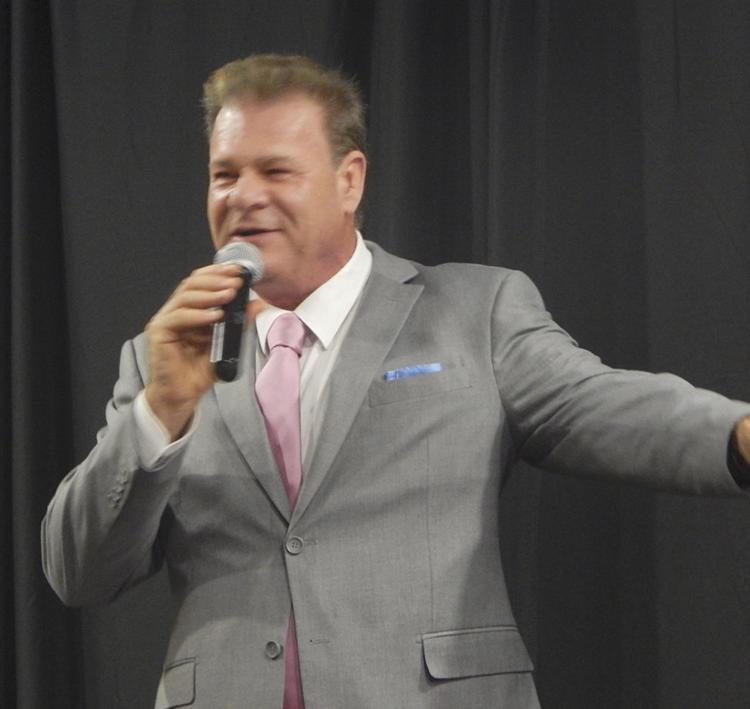 He teased emcee Bob Allbaugh, who bore a resemblance to a famous popcorn giant.
"Give it up for Orville Redenbacher," Weiss said as the audience clapped.
Weiss joked about his father mixing up names. Weiss said he wanted music ranging from Richard Marx to Skid Row.
His dad searched and searched, but was unsuccessful in finding his son the right music.
"Nobody had the Skid Marks album," he said.
Weiss did some Rodney Dangerfield impersonations, having been told his comic style is similar to the late comedian, famous for the phrase "I don't get no respect."
After Weiss was comedian and high school teacher Mark Schumacher, who loved telling stories about his students.
Schumacher, who teaches social studies, said the students can wise-crack like the best of them. One of the kids said, "Did you notice that during Career Day, he took more notes than anyone?"
Schumacher realized that when he started telling jokes about marriage, the audience was faster to respond.
He described his wife as a Type-A personality – feisty and Italian. "She will honk the horn at cars when I'm driving. I point to my wife so they know. "It wasn't me. It wasn't me," Schumacher said.
Ron Rhuman interacted with the audience by walking around between the tables and choosing people to tease.
He selected one audience member, Steve, who was wearing shorts to the dinner. Then he found the dapper Pete Anton, a former Carol's Kitchen volunteer with a black hat and dressed in black.
Pete said he would gladly take Steve to the Garment District in Los Angeles for some shopping.
He also teased a man named Bernie who sells toilet paper for a living and Ruhman's comic foil in the audience, Connie, said "He has job security."
Ruhman also talked about going into Ralph's grocery store, which has self-checkout. "I went down there and said, Oh, it's just a mirror," Ruhman said.
Chairperson Ann Blair said they had started planning the fundraiser in March and was told that the Morongo Band of Mission Indians was going to fund the dinner and comedy show.
Tickets were $50 per person.
Blair said that Cindy Graves coordinated the comedy show and found the comedians.
Carol's Kitchen board president Marty Bauer said he was very pleased with the event.
"I feel it was a huge success,'' Bauer said. "I was very pleased with all of the people who showed up."
Staff Writer Julie Farren may be reached at jfarren@recordgazette.net.