The handover of Bogart Park for management by the Beaumont-Cherry Valley Recreation and Park District was celebrated as a rare successful collaboration between three municipalities.
A plaque marking the occasion was unveiled during a small ceremony Oct. 8 at the entrance to the park.
BCVRPD Chairman Dan Hughes explained to roughly 20 visitors that talks between him and the Beaumont-Cherry Valley Water District, which owns much of the land, and the county's Regional Park & Open Space District, which had a 99-year lease on 80 of the 220 acres of Bogart Park that was not set to expire for nearly 12 more years.
The county, needing to trim expenses, and the water district believed the Beaumont-Cherry Valley Recreation and Park District was an appropriate fit that also had the resources to maintain the portion of Bogart Park that is now under its purview.
Hughes said that the many meetings in between resulted in "a vision that came true."
"We're proof that three agencies working together can get something done," Hughes said.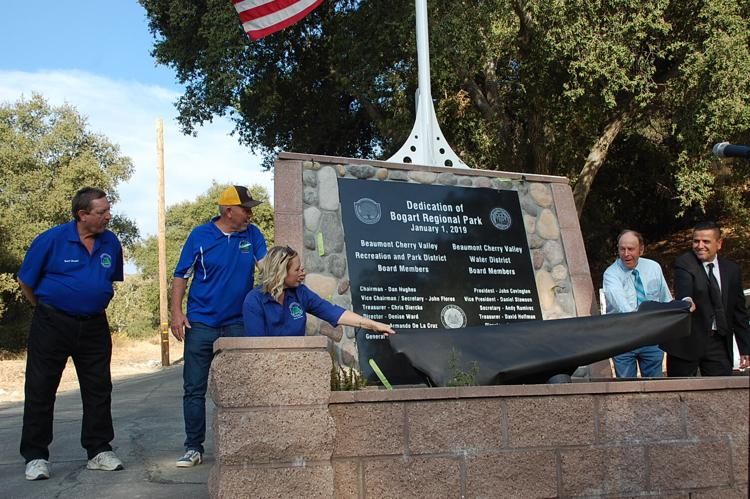 BCVRPD General Manager Duance Burk listed off a series of accomplishments that the park district had already undertaken since the hand-off in January, from fixing a well on the grounds, repairing a water tank up on a hill; removal of lots of decrepit trees; installation and repair of sewer and leech lines; repaired potholes, increased the candlepower of lighting; installed irrigation lines, as well as a new flag pole that towers over the plaque.
Burk was excited to boast about the recent refurbishment of the Bogart Pond, which was instrumental in assisting helicopters fighting recent wildfires to perform their tasks.
"We absolutely want to make this place a destination," Burk said.
He also complimented his employees.
"Without our staff we wouldn't get this done," but acknowledged the fortunate "collective vision of three agencies."
County Supervisor Jeff Hewitt, whose family has used Bogart Park's equestrian trails on occasion, lauded the BCVRPD for making "everything so efficient. What you've done here is making this a regional destination. I hope this becomes a model of interagency cooperation."
John Covington, president of the Beaumont-Cherry Valley Water District, recounted 13 "unanimous recommendations" from the county's Open Space & Park District that his board approved, when its task force indicated overwhelming support for the BCVRPD to take over the lease, which will have to be renegotiated in a few years.
The water district's general manager Dan Jaggers agreed. "I hope this becomes a destination point. It certainly has a lot to offer."
Mickey Valdivia, an assistant to Hewitt and a former general manager for the Beaumont-Cherry Valley Recreation & Park District, recently celebrated is 25th anniversary at the park.
"The collaboration of three agencies" to accomplish a lease transfer agreement "is a testament to how much people care about this area," Valdivia said.
Staff Writer David James Heiss may be reached at dheiss@recordgazette.net, or by calling (951) 849-4586 x114.