Nate Fakes has always been a fan of game shows, gleefully watching them as he grew up.
He got his foot in the door by competing on The Wheel of Fortune on March 8, 2019, when he ended up winning about $17,000 in prizes, including a trip to the Bahamas.
"The Price is Right was the next one I wanted to get on," says Fakes, a cartoonist who has freelanced for Mad Magazine and Red Bull. He designed a T-shirt just for show host Drew Carey's amusement.
Carey took note of his likeness outlined on the shirt Fakes wore for the taping, which has a description "I drew Drew…to get on The Price is Right."
"Drew Carey was awesome. He was familiar with my comics," which Carey chats with Fakes about, referring to his series "Break of Day," a segue to his upcoming graphic novel that he is completing. "Drew is from Ohio, like me. We talked about the Browns in between takes," he says.
Unlike traditional tapings of game shows, there was no live audience at the Hollywood studio due to the pandemic when it was filmed on Dec. 8.
Instead of contestants being called up from a raucous crowd, they were called from backstage, revealing themselves from behind a curtain.
Fakes admits that he was struggling to guess the correct bids for various prizes, but eked out a win to qualify as the final contestant in that day's filming, after being the closest bidder of a $2,100 motor scooter: he guessed $1,700 without going over, and won the scooter.
"Despite how often you watch the show, when you get up there, you're not nervous necessarily, but you're excited," and it can be a more challenging to think under duress under the lights and with others watching, than in the privacy of one's own home, watching it on TV, Fakes explains.
"Since there's no audience" to shout out suggestions of prices, "you can ask the other contestants: does this sound right to you?' We all made a lot of friends" on the set, he says.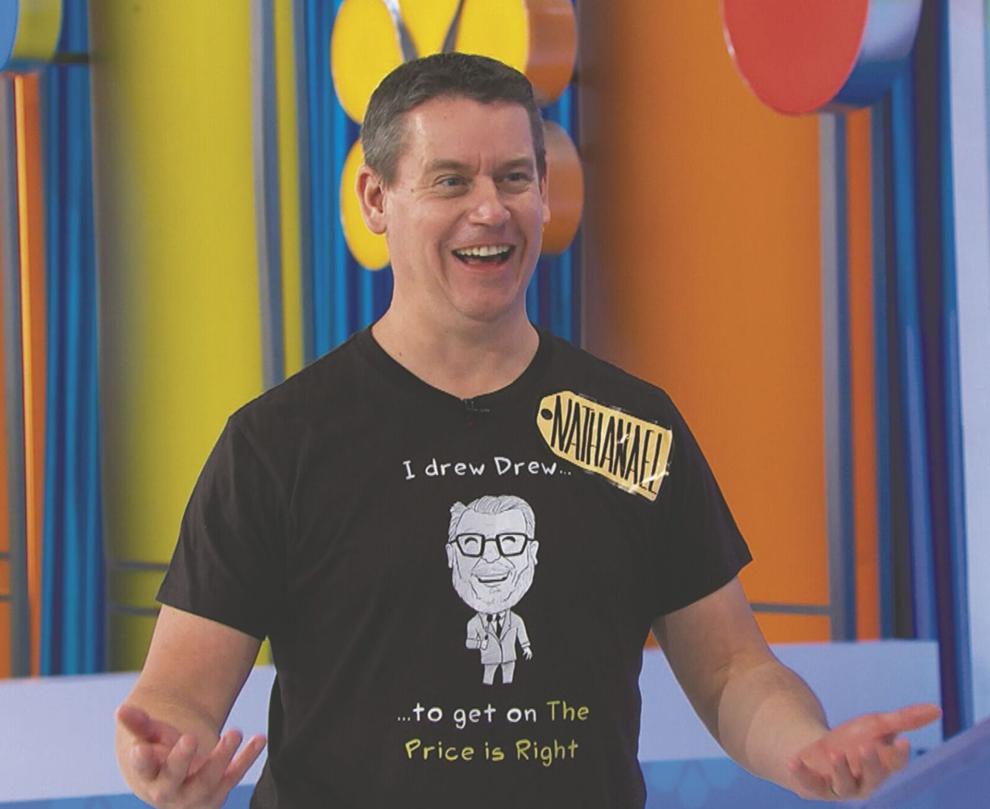 Next up, he was given the opportunity in a game called Double Cross to slide some numbers around to try and match up a value between a gym set and a two-person steam shower, which he succeeded in winning.
Game show prizes are taxable, and treated as income.
Getting on the show required an "audition," Fakes says.
"For the audition, I had to be excited," he explains. "I hopped up and down and screamed really loud — in a fun way. I had to talk clearly about myself, and just showed enthusiasm. I even dressed well" for the virtual audition. "Even though my last name is Fakes, I didn't fake enthusiasm," he jokes.
"I think you really have to want to be on the show to audition well, because it's a bit awkward auditioning in your living room over Skype" before producers, Fakes says. "However, as weird as it was, I really did want to be on, and I suppose it showed, since I made it."
He moved to the Sundance community over a year ago with his wife Kelsey and their 5-year-old daughter Ella. He was born in Toledo, Ohio and attended Wright State University.
Having had to sign confidentiality agreements, no one in his family knew the outcome until this morning's showing when it aired on CBS, he says.
He got to watch his family's reactions as he visited with them in Dayton, Ohio where his mother and several relatives gathered around the television to watch the show.
As part of the agreements he has signed, he can not participate on another game show for a year, similar to what he agreed to when he was on Wheel of Fortune a few years ago.
He offers advice to those who want a chance to be on a game show: "Be yourself and focus on having fun. Don't stress about impressing the producers, and be as naturally enthusiastic as you can be. It will show if you're faking it. Plus, get familiar with the show! Watch new episodes and practice at home. They ask about your favorite pricing games, and you need to be pretty clear on what ones you like! If you have a history of watching the show, let them know that, too. (For example, I watched it growing up at my grandma's house and also when I was home sick from school.)"