California women have narrowed the gap in their pursuit of equal pay, but it is still unbalanced due to the types of jobs men and women typically do.
In a report released on Jan. 8 by the Bureau of Labor Statistics, the women's-to-men's earnings ratio increased 4.9 percentage points from 2017.
In 2018, California women who were full-time wage and salary workers had median usual weekly earnings of $876, or 88.3 percent of the $992 median usual weekly earnings of their male counterparts, before taxes and other deductions, according to the U.S. Bureau of Labor Statistics — which yields women's median yearly earnings to $45,202 and $51,187 for men.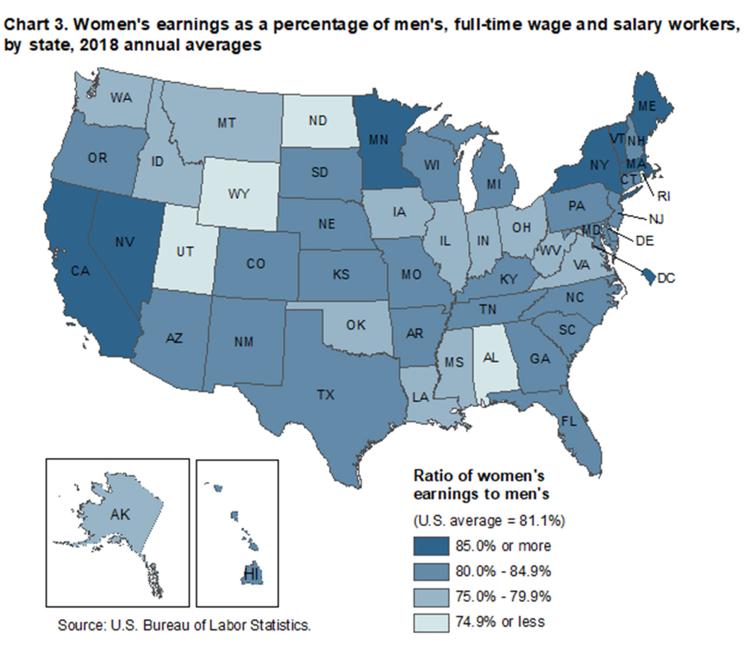 The difference in pay between men and women is $5,985, and could be looked at as a difference of four months of rent for a 1-bedroom apartment at $1,500.
The median usual weekly earnings figure is representative of the uncontrolled gender pay gap, which measures all men and women regardless of job type, seniority, location, industry, years of experience, etc.
One reason for the uncontrolled gender wage gap is jobs predominantly done by women pay less on average than jobs predominantly done by men.
For example, in 2017, according to the U.S. Department of Labor only 12 percent of workers in the aerospace engineer occupation were women. The median annual earnings for men in the aerospace engineer occupation was $106,140.
By comparison, in the same year, 78 percent of elementary and middle school teachers were women, and their median annual earnings were $50,766.
All that said, this is not an accurate depiction of pay disparity of men and women who perform the same job with equal qualifications and job titles.
When men and women have the same job descriptions, titles, education, skills, etc., women earn $0.98 for every dollar a man earns.
There is still a 2 percent difference between a man and a woman with the same qualifications; and the gap only shrunk $0.008 since 2015.
Notwithstanding, California women have earned above the national average since data collection began in 1997.
In 2018 California topped the list of states with the least pay disparity — they made 88.3 percent of what men make, followed by Maine with 87.2 percent and Washington D.C. at 87.1 percent and Nevada at 87.1 percent.
In comparison, nationwide women earned $789 per week or 81.1 percent of the $973 median for men, or 81 cents on the dollar compared to men.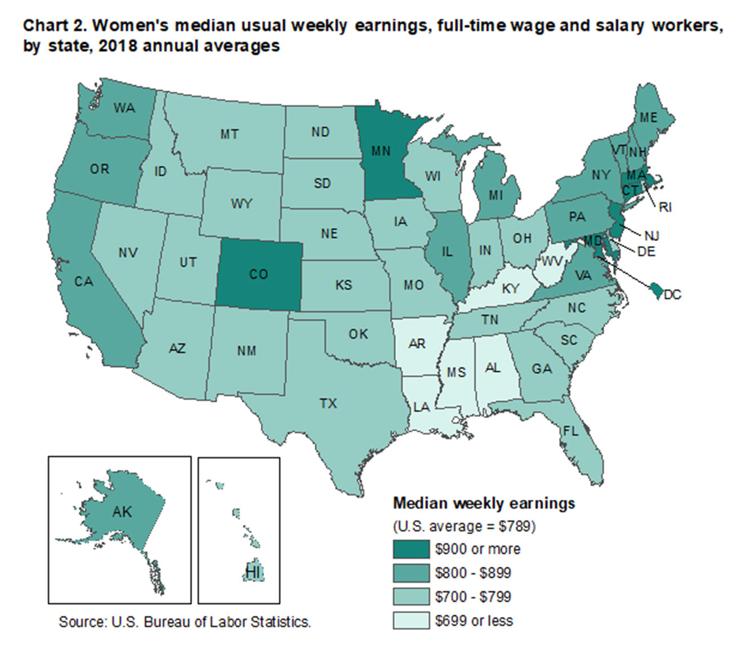 The region with the largest gender wage gap was Wyoming, where women earned just 67.8 percent of what men earned, followed by Utah and Rhode Island with 71.8, and North Dakota with 73.9 percent.
The report states the differences among the states reflect, in part, variations in the occupations and industries found in each state and differences in the demographic composition of each state's labor force.
According to the Institute for Women's Policy Research, women will finally reach pay parity in 2059. Hispanic women will have to wait until 2224 and Black women will wait until 2130 for equal pay.
The estimates in the report were obtained from the Current Population Survey, which provides information on the labor force, employment, and unemployment, by the Bureau of Labor Statistics, which is based on surveys of 60,000 households.
The wage and salary workers reflect people age 16 and older who receive wages, salaries, commissions, tips, payments in kind, or piece rates on their sole or principal job.
Editor Rachael Garcia may be reached at rgarcia@recordgazette.net, or by calling (951) 849-4586 x120.