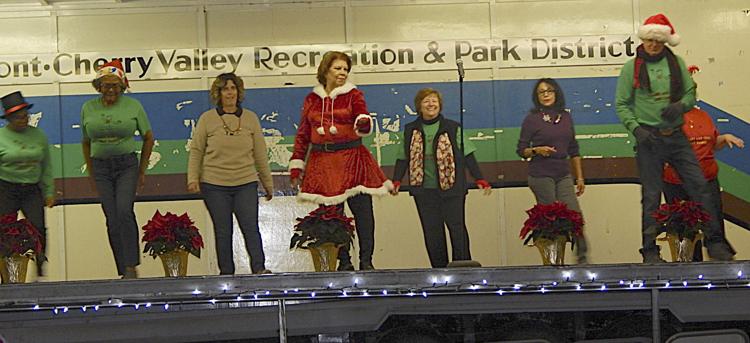 It was a cold rainy night on Friday, Dec. 6 at The Cherry Valley Grange and Chelsea Leitner and two of her children had the right idea.
They were waiting in line inside the Grange to see Santa and Mrs. Claus during the annual Winterfest, held Friday night and Saturday afternoon/evening.
Leitner has been coming to Winterfest since she was a child and she is now 29.
"I grew up doing this. It's fun," Leitner said.
Last year, she introduced the event to her daughter, Penelopea, 4. This was son Winslow's first year since he is only one year old.
Winslow was not the only child at the event, which is sponsored by the Beaumont Cherry Valley Recreation and Parks District.
In the back parking lot of the Grange is a sno-hill for children to sled down at a cost of $3 for the whole evening or day.
Children were bundled up and taking their turns slipping and sliding down the man-made hill and occasionally into volunteers helping them out There were bales of hay surrounding the sno-hill just to keep it safe.
Cody Bogh was having the time of his life. "I fell on my face in the snow,' said Cody, 10, who was riding numerous times.
His sister Lexi, 7, also gave it a try. Baby brother James, 3, only went once. He preferred being held by their mother, Stacy Bogh, as she watched her children having fun. Some families waited to take a hay ride on a colorfully lighted fire truck that circled some of the streets in Cherry Valley for $1 a ride.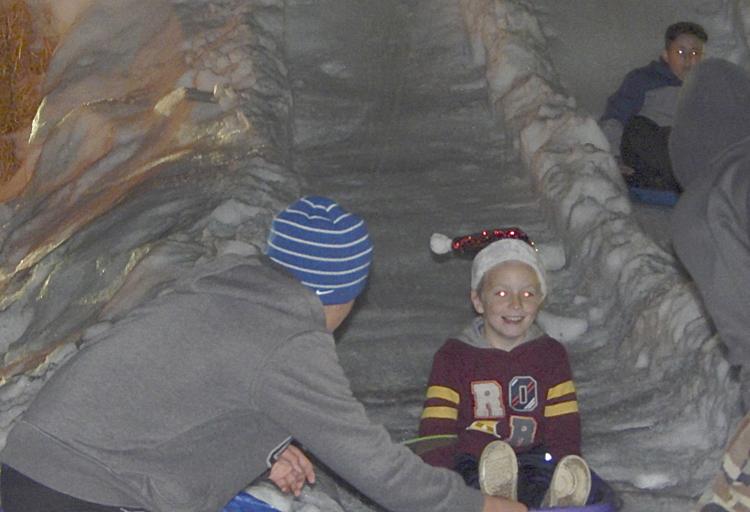 For your culinary pleasure there were soft pretzels and funnel cakes, among other food items.
Holiday music filled the air of Cherry Valley with songs such as "You Make Me Feel Like Christmas'' by Blake Shelton and Gwen Stefani. One little boy was dancing to his own tune while groups were getting ready for their moment on stage.
The Heart and Soul Line Dancers, comprised of women, performed in the cold evening air to Christmas tunes such as "All I Want For Christmas.''
On Saturday, there were some showers on and off in the afternoon, according to activities coordinator Kyle Simpson, but that did not dampen the spirits of the parents and family members and friends who came to see performances by Starlight Elementary School and Three Rings Ranch Elementary School in Beaumont.
Facebook even showed photos of the audience amidst a sea of umbrellas keeping themselves dry as they watched their children sing on stage.
The Christmas tree in front, facing Beaumont Avenue, was lit Friday evening a little after 5 p.m. and also was lit on Saturday as well. Vendors and arts and crafts were out in front and inside the Grange, too.
Children had a chance to decorate and paint ornaments. The recreation and park district also paid tribute to longtime volunteer Stella Parks, who passed away in August.