On Aug. 6 and 7 the premier Prestige Film Festival took place in Banning.
Friday a gala for was held at the Station Tap House Bar and Grill.
The Indie film festival is the first of its kind in Banning.
After several introductions, Colleen Wallace, the Mayor Banning, welcomed guests and several dignitaries before the presentation got under way.
Wallace shared about the history of Banning as it related to entertainment.
She spoke of the Banning Opera House, which opened in 1913 and the Fox Theater, which opened in 1928.
Wallace shared how Bob Hope broadcasted his radio show in Banning in the 1940s, bringing in celebrities like Les Brown, Doris Day and Natalie Wood.
Chuck Cerda, Founder and CEO of Prestige Film Festival, was excited about the festivities for the weekend. "Tonight, we have several things going on," said Cerda. "We have an awards ceremony for several of the films, and we'll be previewing a few of them tonight."
Cerda said that over 70 films from 35 countries were submitted and over 15 languages were represented in the films.
Cerda said that directors from Riverside, Yucaipa and San Bernardino submitted entries to the festival.
"We hope that this festival continues to grow," Cerda said.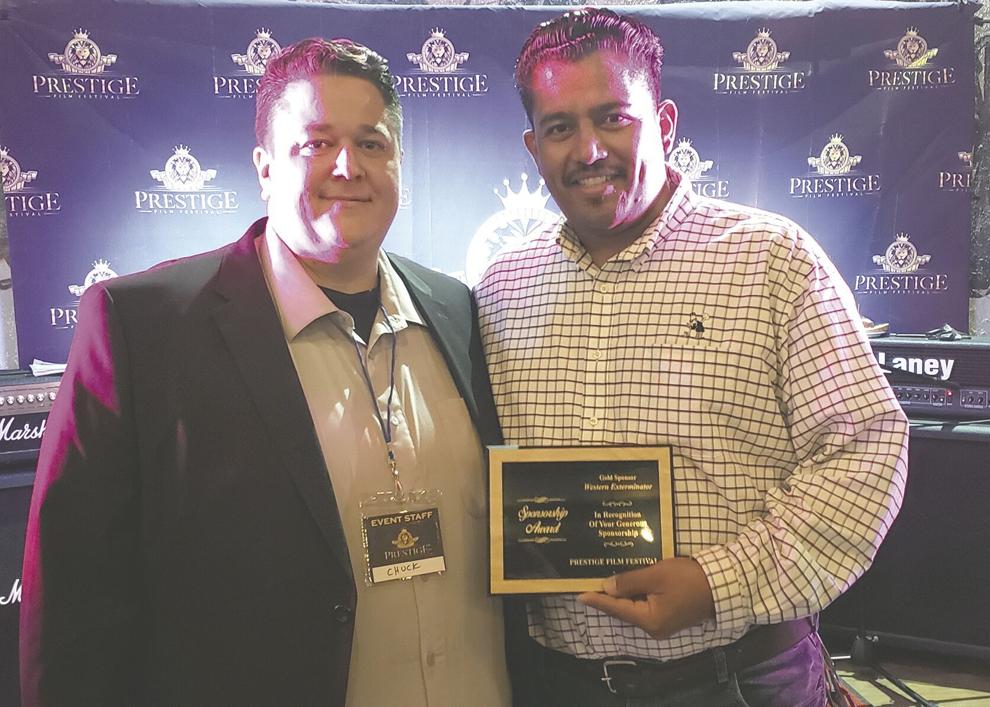 He gave a warm welcome to Grandave Studios, which is in the process of building a mixed-use studio at the Banning Municipal Airport.
"Our plan is to work with Grandave Studios to produce this event to make Banning a movie town," said Cerda.
Sen. Rosalicie Ochoa-Bogh, of the 23rd District, was in attendance for the event.
"It's exciting that the City Council is bringing the community, the film industry and the state together to collaborate on creating a production company in the city of Banning with Grandave Studios," Ochoa-Bogh said.
Ochoa-Bogh believes that the film industry will bring economic prosperity to the area.
"This event is a spring board to what we can look forward to in the future," Ochao-Bogh said. "With Grandave Studios coming to Banning, more jobs will be created, and Banning will be a destination place for making movies."
Jofil Borja, a consultant for Grandave Studios in Banning, assisted in procuring financing, infrastructure and construction of the studio.
"In Banning, we are trying to build a $200 million studio/airport, at the Banning Municipal Airport," Borja said. "We want to build sound studios, along with
over 18,000 square feet of mixed studio space and a back lot. "Our goal is to help create jobs and revitalize the economy here in Banning."
Borja said the airport would continue to maintain its normal day-to-day functions.
"We plan on building a live water tank for underwater filming," Borja said.
The studio will build and film on street and town facades.
The newly created streets will be used to film car chases and other reenactments that take place in a city.
Because of the its remote location, pyrotechnic devices will be used in productions.
"We are going to be working closely with the fire marshal to make sure that everything is safe," Borja said. "Grandave will be working with the public safety
department to film training scenarios; like active shooters, police car chases and emergency situations."
According to Borja, Grandave has a history with Banning.
"Ruben Islas, the CEO of Grandave, went to Banning High School," said Borja.
The response to having a new film studio in Banning has been welcoming, according to Borja.
"The people have been amazing and gratifying to work with," said Borja, adding "We've received a lot of support, not only from Sacramento, but regionally and locally in Banning."
"We want to put Banning on the map," Borja said.
Geographically, Banning is a hub to several major metropolitan locations.
"Banning is such a strategic location for live, work and play," Borja said.
"Banning is close to Palm Springs and only an hour's drive to Los Angeles. Our main focus is to build with Banning, partner with Banning and employ Banning."
Grandave wants to create a pipeline of internship programs with the Banning schools for the over 200 trades that will be involved in the production of films and television shows.
"Banning High has a very competitive production set, and we want to encourage its
growth and build a relationship with them and the studio," Borja said.
Grandave's goal is to build economically and inclusively with Banning.
"This film festival is just one facet of the overall goal to bring movie making to Banning," Borja said. "Dozens of films will be shown at this festival. I'm sure the festival will grow over the years."
California State Treasurer Fiona Ma came to the gala to lend her support to collaboration being forged with Grandave Studios and the film festival.
"I'm very excited to be here. There is a lot happening in Banning," said Ma, a former SAG-AFTRA member. "We'd like to see more happening in Banning, in terms of television and movie production."
Ma said that she has always supported the arts and wants to bring more filming back to California.
"There is a lot of need for content, and this film festival shows the overwhelming support for that need based on the attendance tonight," Ma said. "It shows that there is strong interest in film, and I'm glad that Banning is starting this tradition here."
The festival took place on Saturday at the Fox Cineplex in Banning.
For more information about Prestige Film Festival, call (909) 659-2946.
Prestige is located at 27989 Pasito St., Highland, CA 92346.