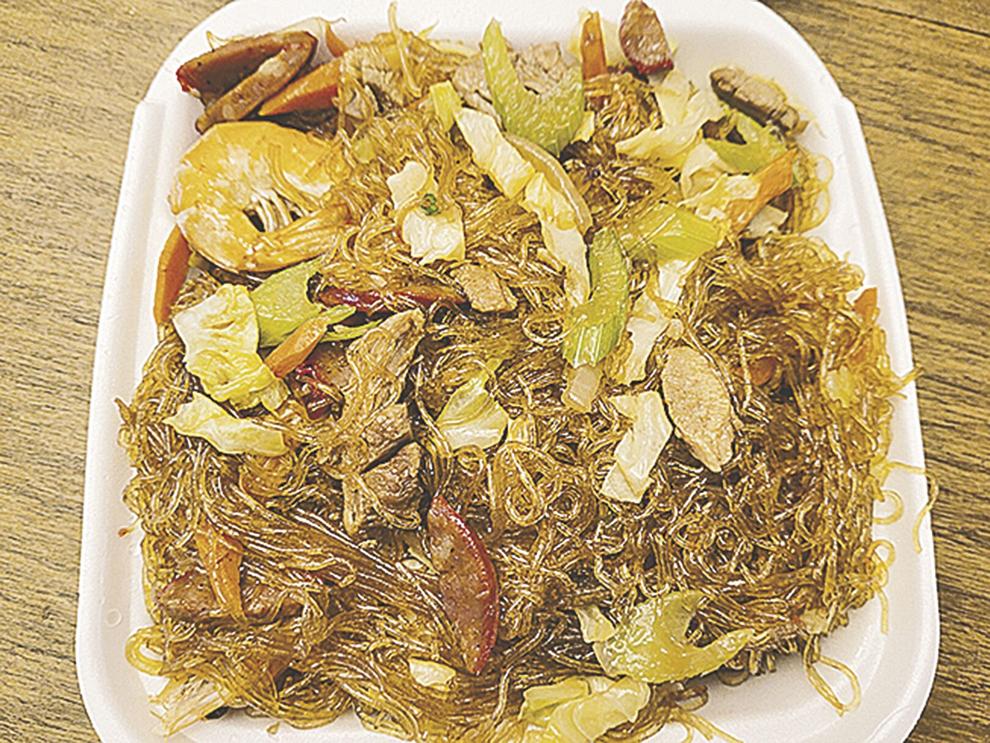 BY DAVID COHEN
For Record Gazette
Millet's Cafe is a Filipino restaurant in Beaumont where you'll find both familiar and not so familiar fare.
Pork, especially pork belly in various guises, is king in Filipino cuisine. There's an abundance of fried rice dishes, often with a fried egg on top. Noodles blended with meat and vegetables also play a prominent role.
Available items rotate from day to day and there's usually one special. The special on the day I showed up was Lechon Kawali, which is deep-fried pork belly served with a side of white rice. It's crunchy on the outside with a layer of fat in the middle and a thin layer of meat along the bottom of each cube. (Don't forget to pop a Statin pill as a chaser!)
It's salty with a complex mouth feel, but I have to confess, I nibbled at the crunch and the thin layer of meat and left the fat on the plate. The small cup of pickled carrots and cabbage helps to cut through the richness of the pork.
Kare kare is a stew consisting of a savory peanut sauce (this one thinner than I've had in the past) in which you often find oxtail, pork hocks, calve's feet, pig trotter and beef tripe. Their version is simpler, the meat being beef and beef tripe.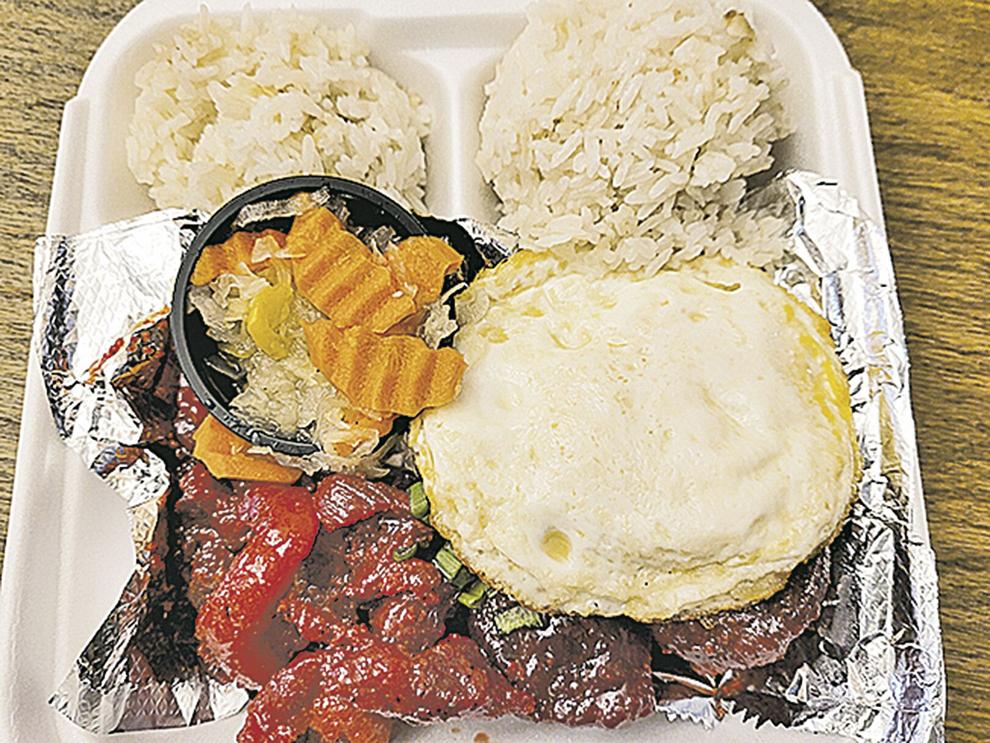 Tripe is the honeycombed interior of a cow's stomach and is fairly mild in flavor compared to other organ meats. The overall dish is flavored with garlic, onions, a good amount of green beans and sliced Japanese eggplant and thickened with toasted rice powder. It's definitely a dish worth sampling.
Our next dish was Tosilog, a popular breakfast dish in the Philippines, consisting of Tocino, a cured red sausage, fried rice and a fried egg. The meat is simultaneously sweet and savory and the portion is exceedingly generous — big enough to allow you to skip lunch if you're so inclined.
Sour soup is also popular in the Philippines, with a pleasing sourness in the finish. Various veggies can be added including okra, roasted tomatoes, spinach and green bell peppers.
We, unfortunately, opted for the whole pompano as the protein component, a white fleshed bony flat fish. I'm not sure if the fish was previously frozen or perhaps more than a couple of days old, but the flavor was exceedingly strong and it carried over into the broth.
By all means try the sour soup, but I'd opt for pork or chicken instead of fish.
Pancit could make a case for itself as the Filipino national dish. It consists of noodles in various guises. We opted for the glass noodles, which are usually made from mung beans or cassava. They are thin clear noodles that have a smooth and slippery texture.
The noodles are usually cooked in chicken broth with wood ear mushrooms, soy sauce and oyster sauce. We opted for the combo pancit with a blend of chicken, beef and shrimp dotted with shredded carrots, cabbage and mung beans.
The shrimp, unfortunately, were overcooked and mushy, but otherwise, this dish was both filling and nicely flavored with distinctive textural components.
Pork adobo wasn't available on the day I visited, but when it is, be sure to order this classic dish cooked with soy sauce, vinegar and garlic.