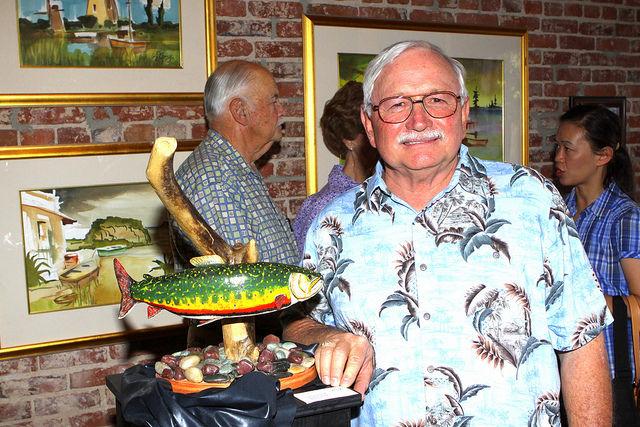 BY BEVERLY RASHIDD
For the Record Gazette
The Banning Art Gallery continues to bring world class art to the Pass area by well-known and respected artists along with talented and acclaimed local artists.
This time it brings an exhibit by Dorothy Slikker and local artist, Jerry Searcy.
Slikker is a a prominent, artist, author, and teacher.
She is the author of "My Art Walk with Contemporary Masters" and an autobiography, "Looking back through the Life of Master Artist" as well as art instruction books.
An Amazon customer says of her autobiography, "A true down-to-Earth, thoughts and feelings of a "wife, mother, grandmother artist. It will inspire you to follow your heart and be true to yourself! This author is not too proud to give credit to those who helped her."
Her oil and acrylic paintings on canvas incorporate landscape, animals and people.
Her extensive works communicate a powerful sense of home and belonging.
Searcy is a member of the Banning Art Center co-op and master at carving, and painting with acrylics.
His artistic interests began while he was an educator. He began woodworking as a hobby, building and painting scenes on furniture.
This then lead to scroll saw work and eventually to an interest in carving.
This eventually grew into what today are carvings of fish and other forms of sea life with an emphasis on placing them in a natural setting.
Upon moving to Banning, Searcy became interested in painting and was encouraged to take art classes.
He attended classes under the famous "KookKats" artist Don Roth.
Searcy now enjoys putting his acrylic paintings onto fabric and ceramic art. Searcy says, "Where this will go, I have no idea, but I'm sure enjoying every minute of it."
This extensive show of paintings and three dimensional arts are on exhibit now at the Banning Art Gallery at 42. W Ramsey St. on the San Gorgonio Street side of The Haven.
A reception is being held on Saturday, July 20 from 3 to 5 p.m. Slikker and Searcy will share fascinating stories about their artistic journeys.
The public is invited to enjoy their art and refreshments.